Splinter Cell: Chaos Theory Performance
We make use of the Lighthouse demo for Splinter Cell: Chaos Theory. We have been using this benchmark for quite some time and facilitate automation with the scripts published at Beyond 3D. This benchmark is fairly close to in game performance for our system, but midrange users may see a little lower real world performance when tested with a lower speed processor.
Our settings all used the highest quality level possible including the extra SM3.0 features. As the advanced shaders and antialiasing are mutually exclusive under SC:CT, we left AA disabled and focused on the former. We set anisotropic filtering to 8x for all cards.
For this 3rd person stealth game, ultra high frame rates are not necessary. We have a good playing experience at 25 fps or higher. There may be the framerate junkie out there who likes it a little higher, but our recommendation is based on consistency of experience and ability to play the game without a degraded experience.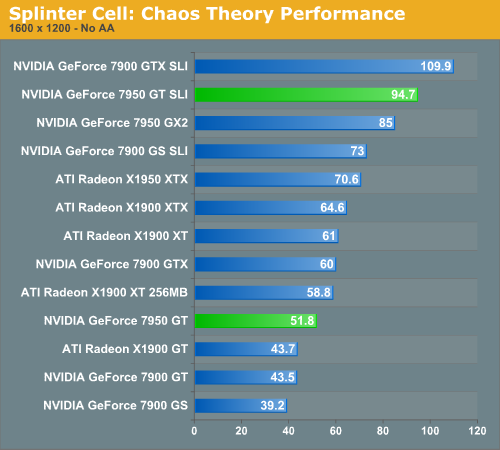 Those out there who like a smoother than necessary framerate will be happy with the performance of Splinter Cell: Chaos Theory under any of these cards. Once again we see the X1900 XT 256MB card outpacing the 7950 GT, with 7950 GT SLI performance splitting the difference between the 7950 GX2 and 7900 GTX SLI.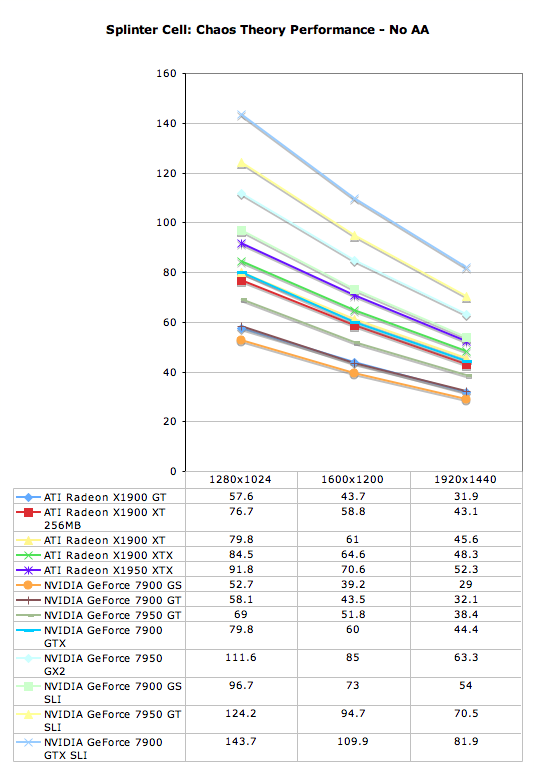 Nothing much changes with the other resolutions. Even at 1920x1440 these cards remain playable. The 7900 GS pulling in at less than 30fps isn't that big an issue with this stealth based title, and 7900 GS SLI leads the X1950 XTX in performance. The 7950 GT lags behind both X1900 XT flavors throughout testing.