3D Rendering Performance using 3dsmax 7 & CineBench 9.5
We're looking at 3D rendering performance using two different applications: 3D Studio Max and Cinebench 9.5. Cinebench is a free performance testing utility based off of the CINEMA 4D R8 rendering package. Our scores from 3D Studio Max are a composite score from four rendering tests: CBalls2, SinglePipe2, UnderWater, and 3dsmax5 Rays.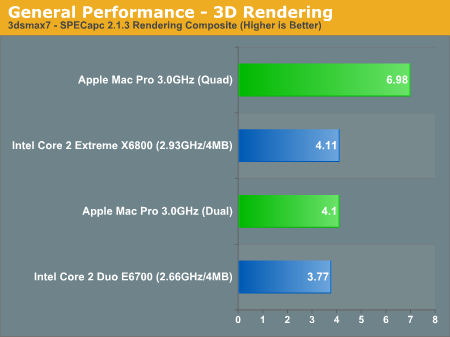 Given how much of a boost we saw going from one to two cores in 3dsmax, the incredible performance of the four core Mac Pro 3.0GHz is not surprising. When Intel releases its upcoming Kentsfield processor, you should be able to attain similar performance to the Mac Pro 3.0GHz in a single socket. Naturally, at that point you should also be able to upgrade the Mac Pro to eight cores. Dual socket PC workstations are also be available that compete with the Mac Pro in terms of CPU cores, though without OS X support.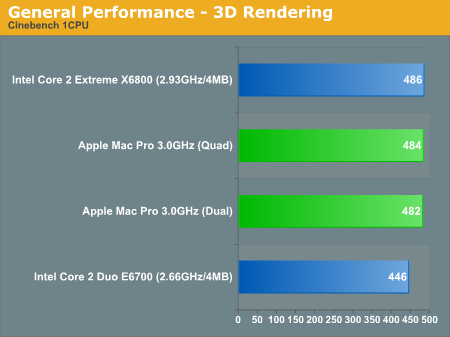 In CineBench's single threaded test, the Mac Pro 3.0GHz and Core 2 Extreme X6800 is virtually identical. The Mac Pro should be a bit faster thanks to its faster FSB and slightly higher clock speed, but the use of FB-DIMMs results in a bit of a performance penalty that ends up evening out the performance.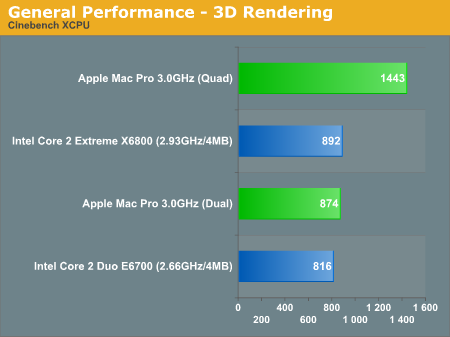 The multithreaded CineBench test shows us similar scaling to what we saw in 3dsmax; the move to four cores gives the Mac Pro a 65% boost in performance.