Game Performance Comparison
While Sandra and Super Pi provided useful information on how memory performs without the influence of other components, our first round of real world tests has shown there is not a large difference in performance between DDR2 and DDR memory nor between DDR2-533 and DDR2-800. However, our next set of real-world benchmarks consists of gaming benchmarks.
Due to the amount of information and the relative closeness of the scores we are not utilizing zero based charts as the line graphs would stack on each other.
Although the data chart tells the story we felt like there should be some separation in the line graphs to accurately depict the information.
We utilize Far Cry, Half Life 2 and Quake 4 in our normal memory testing because they are sensitive to memory changes. We are adding Prey and Serious Sam II to our benchmark mix because they are typically very GPU dependent and we will see the effects of our memory choices on these games.
We originally tested at both 1024x768 and 1280x1024 resolutions at High Quality settings without anti-aliasing or antistrophic filtering enabled. However, we found at 1280x1024 that our results were basically GPU limited. We are only showing 1024x768 results as this resolution is not completely GPU limited with our 7600GS video card. We feel like our 1280x1024 and 1024x768 settings are representative of an i865/945P/VIA PT880 platform and believe most users at this price point would be utilizing a 17" or 19" monitor with this configuration. We will report 1280x1024 settings in our AGP versus PCI Express article.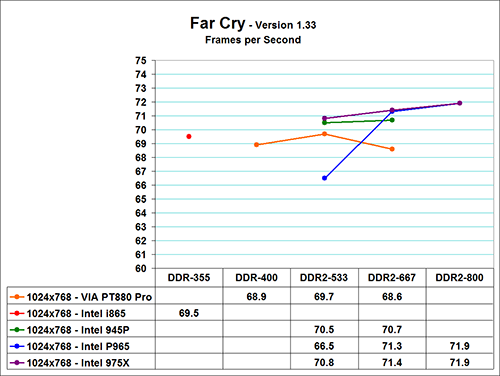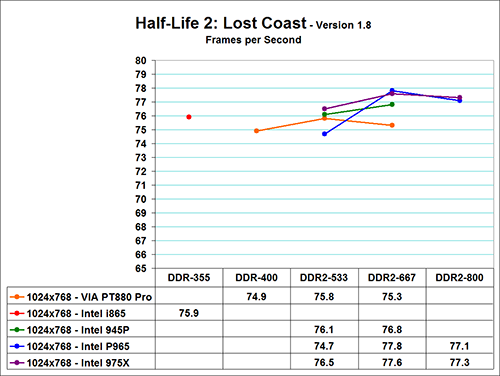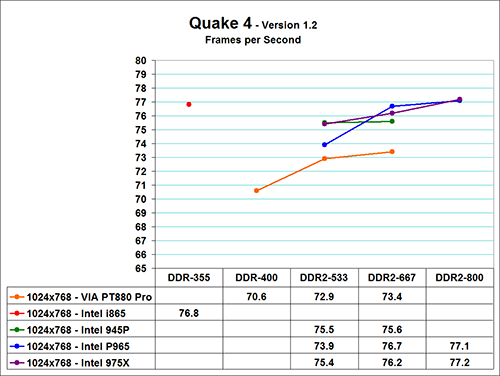 Our three memory sensitive games show a pattern with the Biostar P965 board performing below average at DDR2-533 and then placing in the top section in the DRR2-667 and DDR2-800 results. The P965 results at DDR2-533 are opposite of our synthetic and application benchmarks. It appears the chipset timings are relaxed at this setting and this is affecting our game performance where memory sensitivity is important.
Our i865 based motherboard with the 7600GS AGP card is very competitive with the DDR2 board solutions and pulls away from the VIA PT880 Pro chipset in Quake 4 while performing equally at the VIA DDR2-533 settings. Although AGP is basically dead and the most powerful card available is based on the 7800GS chipset, we can see that it is still a very competitive solution in the mid-range market as is low latency DDR memory with the right chipset.