Memory Bandwidth and Scaling
Everyone should already know that memory bandwidth improves with increases in memory speed and reductions in memory timings. We first used the new Memory Performance Scaling charts in our
comparison of DDR2 memory on AM2 and Core 2 Duo processors
. They were so well-received the scaling charts will be used in future memory reviews to compare both Memory Bandwidth and Memory Performance over a wide range of DDR2 speeds. To evaluate memory bandwidth SiSoft Sandra 2007 Professional was used to provide a closer look at scaling.
Since the Corsair and OCZ results were so close at all tested speeds, the scale range was reduced to better show the small differences in these two memories. Please keep this in mind when viewing the charts, since a normal zero scale would make performance differences appear much smaller than these expanded scale charts. Values for each memory at each speed are included below each chart for reference.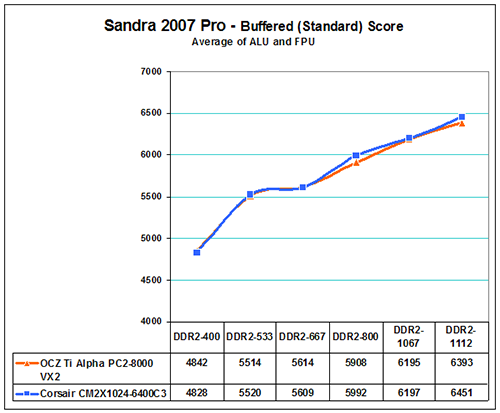 The most widely reported Sandra score is the Standard or Buffered memory score. This benchmark takes into account the buffering schemes like MMX, SSE, SSE2, SSE3, and other buffering tools that are used to improve memory performance. We found in our recent AM2/NetBurst/Conroe comparison that AM2 provides the highest buffered bandwidth available - with leads at DDR2-800 as large as 40% over Conroe and NetBurst. NetBurst is next fastest, and Core 2 Duo provides the poorest Buffered bandwidth. Of course this does not carry through to other performance areas, as Core 2 Duo is normally 10% to 30% faster than AM2 or NetBurst in our system benchmarks.
Performance of the Corsair and OCZ are so close in Buffered bandwidth they could almost be from the same company.
As we have been saying for years, however, the Buffered benchmark does not correlate well with real performance in games on the same computer. For that reason, our memory bandwidth tests have always included an UNBuffered Sandra memory score. The UNBuffered result turns off the buffering schemes, and we have found the results correlate well with real-world performance.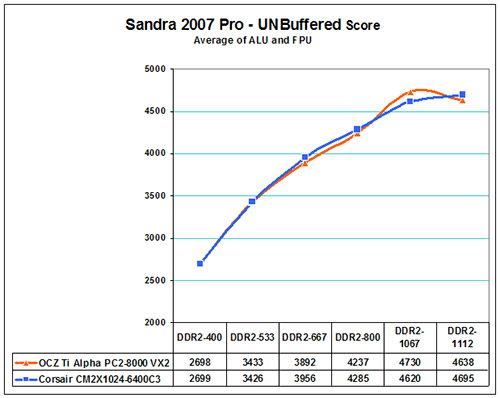 In Unbuffered tests we see the Corsair 6400C3 and OCZ PC2-8000 again looking like they could be two samples off the same production line. Since both are based on specially binned Micron memory chips this should not be a real surprise.
The Sandra memory score is really made up of both read and write operations. It is also a synthetic benchmark that does not always reflect real world performance. We also compared pure number crunching with Version 1.5 of Super Pi - comparing the time to calculate 2 million places of Pi at the different memory speeds.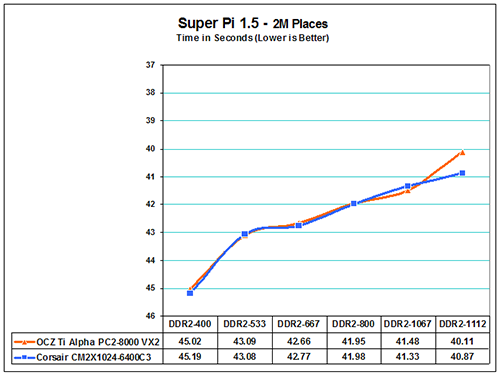 The most striking result in comparing Super Pi results is that performance continues to improve all the way to the highest speed that could be reached with stability - DDR2-1112 on both memories. The performance scaling illustrates how DIMMs with the same memory chips perform about the same. The only real difference between the Corsair and OCZ is the slightly better performance of Corsair at DDR2-1067 and the performance advantage of OCZ at DDR2-1112 - probably a result of the different approaches to SPD programming. Don't make much of these differences, however, as you can see similar difference in DIMMs coming off the same production line.