Western Digital
was founded in 1970 and began designing and manufacturing hard drives in 1988. The company is headquartered in Lake Forest, California, and employs approximately 23,000 people worldwide. Their innovative manufacturing facilities are located in Malaysia, California, and Thailand with research and design facilities in California.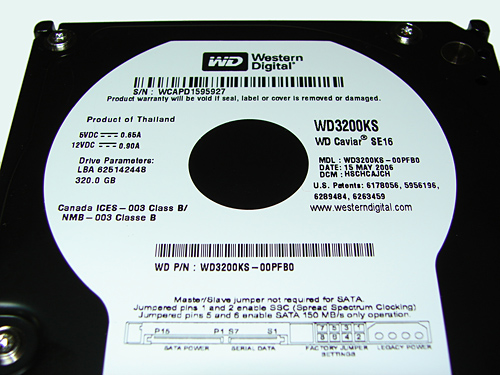 We are looking at Western Digital's WD3200KS product today that features a 16MB drive buffer, native 3Gb/s SATA support, 320GB capacity, and 7200 RPM spindle speeds. The SE16 series is available in 250GB, 320GB, 400GB, and 500GB capacities and is considered to be Western Digital's High Performance desktop series. This series also features WD's advanced acoustic technologies, Whisperdrive and Softseek. The 400GB drive offers 1.5Gb/s SATA support while the other drives offer 3Gb/s SATA support but lack Native Command Queuing as Western Digital believes this technology does not benefit the typical desktop user.
Seagate was founded in 1979 and manufactured the first hard drive for the personal computer in 1980. The company is headquartered in Scotts Valley, California with research and design facilities in the US, Northern Ireland, and Singapore. Manufacturing and customer service sites are located in: California; Colorado; Minnesota; Oklahoma; Northern Ireland; China; Malaysia; Singapore and Thailand.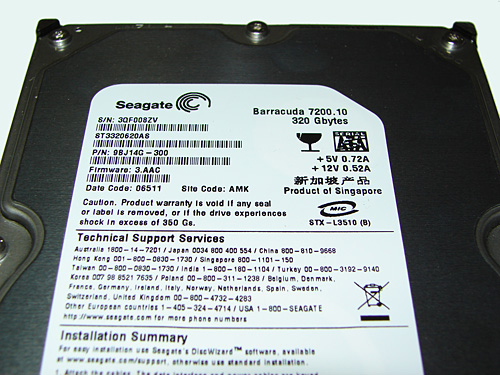 Seagate recently announced the Barracuda 7200.10 as the successor to their Barracuda 7200.9 series. The Barracuda 7200.10 series consists of drives ranging in capacity from 200GB to 750GB along with UltraATA/100, SATA 1.5Gb/s, or SATA 3Gb/s interfaces and 8MB or 16MB of cache depending upon the drive model. As with previous Barracuda product group updates the naming succession follows the standard point upgrade path but this change is anything but a simple number revision. The new Barracuda 7200.10 product is the first desktop centric hard drive to feature perpendicular recording.
What is Perpendicular Recording Technology? Simply put, during perpendicular recording the magnetization of the disc stands on end, perpendicular to the plane of the disc, instead of lying in the disc's plane as it does in current longitudinal recording. The data bits are then represented as regions of upward or downward directed magnetization points. The media is written to a soft magnetic under-layer that functions as part of the write field return path and basically generates an image of the recording head that doubles the available recording field resulting in a higher recording density compared to longitudinal recording.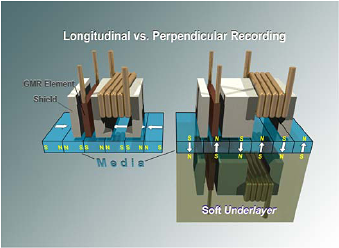 Whereas in longitudinal recording, the data bit magnetization lies in the plane of the disc and switches between pointing in the same and then opposite directions of the head movement. In order to increase areal densities and provide greater storage capacity in longitudinal recording, the data bits must be arranged and shrunk in a very tight pattern on the disc media. However, if the data bit becomes too small, the magnetic energy holding the bit in place can become so small that thermal energy can cause it to demagnetize resulting in a condition known as superparamagnetism.
To avoid superparamagnetism, engineers have been increasing the coercivity, the field size required to write a bit, of the disc media. These fields are limited by the magnetic materials making up the write head that will soon effectively limit drive sizes utilizing longitudinal recording. Although additional capacities are still achievable, the drive industry will be moving to perpendicular recording technology shortly as longitudinal recording has basically hit the proverbial brick wall after being utilized for nearly 50 years.
Let's see how these two impressive drives compare to each other and if a knockout is in store.