Application Performance using Winstone 2004
Winstone 2004 consists of two different benchmark suites; the Business Winstone test focuses on office applications, while the Multimedia Content Creation benchmark contains many audio/visual applications that are more CPU limited.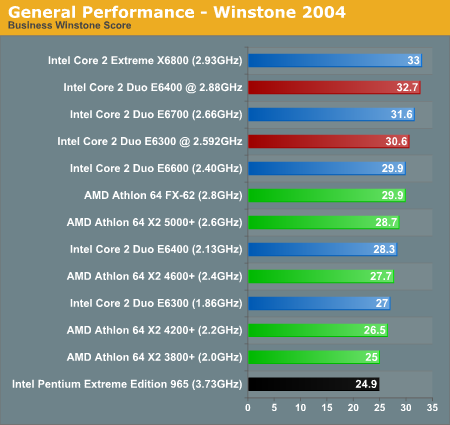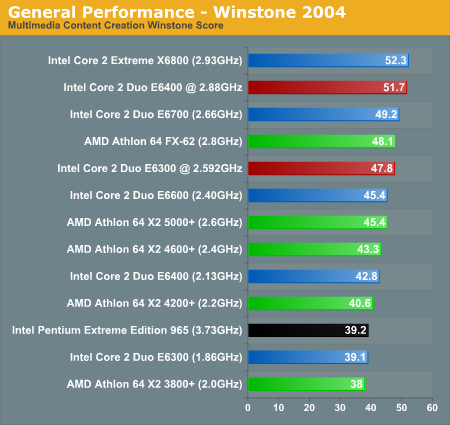 As with WorldBench 5, results in both Winstone 2004 suites are relatively close together. The spread in the Multimedia Content Creation test is 38% while the spread in the Business Winstone test is only 32.5%. This reflects the fact that the business applications generally spent most of their time waiting on the user for input. Overclocking continues to give the 2 MB Core 2 Duo chips a reasonable performance boost, however, putting them relatively close to the performance of the $500-$1000 E6700/X6800. If you don't demand absolute maximum performance and are looking to save some money, both chips will keep you very happy.
With the extremely low prices of AMD's X2 processors, the price/performance offered is still certainly competitive. In all of the general performance testing that we have presented here, an X2 3800+ or X2 4200+ (with or without overclocking) is by no means a slow processor. Core 2 Duo is faster, though at present we also have to conclude that Core 2 Duo motherboards are more expensive (with the exception of the ASRock board, though that has a few drawbacks). If you are looking for something right now and are looking to save money, socket AM2 has a lot of reasonable choices at very good prices. For the business user, you really can't go wrong with any of these chips.