Application Performance using PC WorldBench 5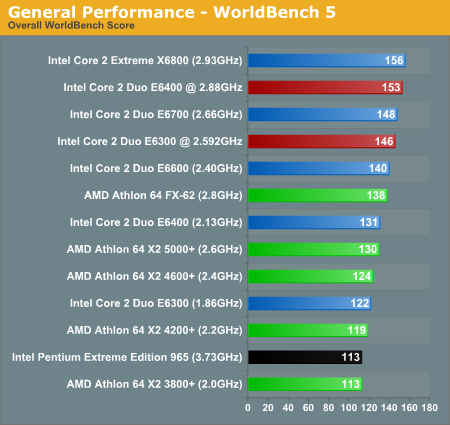 Switching over to WorldBench 5, all of the scores become much closer. The spread between the fastest and slowest tested processor is only 38%, and overclocking of the E6300 and E6400 by 39% and 35% results in a 20% and 17% performance increase, respectively. Given the number of applications being tested in WorldBench 5, the overall results are not too surprising. Some tests are CPU limited while others are bottlenecked by hard drive performance. Athlon 64 X2 is more competitive in this benchmark, and the truth is that any of these systems would be more than fast enough for typical home/office use. If you want the fastest current CPU architecture, however, that title clearly belongs to Intel's Core 2.
WorldBench 5's applications are a bit older than those used in SYSMark 2004, and the data sets not as large - meaning that the smaller cache of the E6300 and E6400 has less of a negative impact. The result is that the 2.88GHz E6400 performs very close to the 2.93GHz X6800 and the 2.59GHz E6300 performs very close to the 2.66GHz E6700. Compared to AMD, the overclocked E6300 does quite well - at 2.592GHz the E6300 is already faster than AMD's Athlon 64 FX-62 - and we're talking $183.