ASUS P5W-DH Deluxe
Basic Features
ASUS P5W-DH Deluxe
Market Segment
High-End/Enthusiast
CPU Interface
Socket T (Socket 775)
Chipset
Intel 975X + ICH7R
CPU Support
Core 2 Duo, Pentium D, Celeron D, Pentium XE, LGA-775 based Pentium 4
Thermal Design
8-phase power
Fan-less Heatpipe Cooling
ASUS Stack Cool for OC
Default Bus Speed
1066 (533/266)
Bus Speeds
100 to 500 in 1MHz Increments
Memory Speeds
DDR2 at Auto,400,533,667,711,800,889,1067
PCIe Speeds
Auto, 90 to 150 in 1MHz Increments
Performance Mode
Auto, Standard Turbo
AI Overclocking
Manual, Auto, Overclock Profile, AI N.O.S.
PCI
Auto, 33.3, To CPU
Core Voltage
Auto, 1.225V (Actual CPU voltage) to 1.7000V in 0.0125V increments
FSB Termination Voltage
Auto, 1.2v, 1.3v, 1.4v, 1.5v
MCH (Memory Controller Hub) Voltage
Auto, 1.50v, 1.55v, 1.60v, 1.65v
ICH (SB) Voltage
Auto, 1.05v, 1.20v
PEG Link Mode
Auto, Slow, Normal, Fast, Faster
CPU Clock Multiplier
Auto, 4x-25x in 1X increments
DRAM Voltage
Auto, 1.8V to 2.4V in .05v increments
DRAM Timing Control
9 Options
Hyper Path 3
Auto, Disabled, Enabled
Multi-GPU Option
CrossFire (2 X8 PCIe)
Memory Slots
Four 240-pin DDR2 DIMM Slots
Dual-Channel Configuration
Unbuffered ECC/non ECC Memory to 8GB Total
Intel MPT (Memory Pipeline Technology)
ASUS HyperPath3
Expansion Slots
2 PCIe X16
2 PCIe X1
3 PCI Slots
Onboard SATA/RAID
3 SATA2 3Gb/s Drives by Intel ICH7R
(RAID 0,1,5) PLUS
2 SATA2 3 Gb/s Drives by JMicronJMB363
(RAID 0,1) (1 internal,1 external) PLUS
2 SATA2 3 Gb/s Drives by Sil4723
(supports RAID 10 by combining iCH7R drives with Sil4723 drives)
TOTAL - 7 Sata2 3Gb/s drives
Onboard IDE/IDE RAID
One Standard ATA133/100/66 (2 drives) by JMicron JMB363
Onboard USB 2.0/IEEE-1394
8 USB 2.0 ports supported by ICH7R
2 Firewire 1394a by TI
Onboard LAN
DUAL PCIe Gigabit by Marvel 88E8053 for AI Net2, PLUS
WiFi 54Mbps supporting 802.11g
Onboard Audio
Azalia HD Audio by Realtek ALC882M
8 channel codec
Supports Dolby Master Studio including Dolby Digital Live
Power Connectors
24-pin ATX
4-pin EATX 12V
Back Panel I/O Ports
1 x PS/2 Keyboard
1 x PS/2 Mouse
1 x Serial
1 x Audio I/O Panel (6 plug programmable)
1 x Optical S/PDIF Out Port
1 x Coaxial S/PDIF Out Port
1 x IEEE 1394a Firewire
1 x External SATA2
2 x RJ45 LAN
1 x Wireless LAN antenna
4 x USB
BIOS Revision
AMI 701 - July 8, 2006
Current thinking in overclocking options is to provide very fine adjustments for voltages over a very wide range of control - particularly in the memory voltage control. ASUS has done this on other recent boards, like the AM2-based
M2N32-SLI Deluxe
. However, the P5W-DH only extends to 2.4V compared to the 2.5V on the M2N32-SLI and granularity of the adjustments is a pretty coarse 0.5V compared to 0.2V on the M2N32-SLIl. We suspect this is because the P5W-DH is mainly a refresh to the existing ASUS P5WD2-E, which we reviewed at
ASUS P5WD2-E Premium: Intel 975X for the Enthusiast
when it was introduced in January.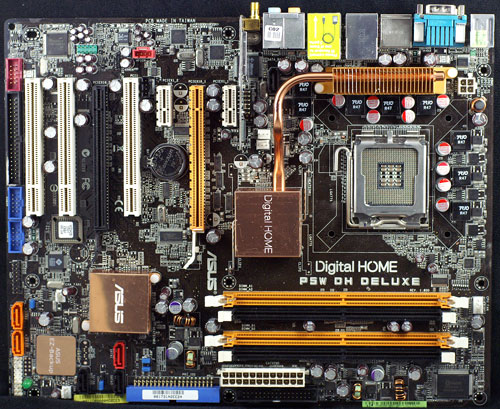 Click to enlarge
As you will see below, overclocking was outstanding, but we suspect that higher voltage adjustments on the MCH would allow even higher overclocks. The ASUS stops at 1.65V, while the Intel BadAxe goes on to 1.725V. We would welcome ASUS raising the top voltage on the MCH. There are reports that modding the ASUS to reach 1.9V MCH allows FSB overclocks to almost 500 instead of the current limit of around 440 to 450 FSB.
If you compare the new board to the earlier P5WD2-E you will find the board is basicly the same. The storage controllers have been changed to a Silicon Image that allows a port-multiplier type connect to one of the ICH7 ports. This allows driverless RAID. The board has also dropped the PCIe x4 slot. Asus also replaced the Marvel SATA/PATA controller with the updated JMicron chip. In general. though, our comments in the P5WD2-E review still accurately describe the board's strengths and weaknesses.
The P5W-DH Deluxe adds the lower voltages required by Core 2 Duo and meets the voltage stability requirements for Conroe. Both of these factors are why almost all existing Socket 775 boards cannot handle Core 2 Duo. Both a BIOS and a hardware change are required for proper operation with Conroe.
Basic Performance
All-in-all the ASUS P5W-DH Deluxe is one of the best Conroe boards we have tested. The 975X chipset is definitely more mature than current P965 chipset motherboards. Having said that, there were still several BIOS revisions during our testing to update certain peculiarities in the current steppings of Core 2 Duo.
The ASUS board was every bit as stable with Core 2 Duo as the Intel BadAxe, which for a long time was the only board that would operate with Conroe. The ASUS also implements the ability to adjust X6800 (2.93EE) ratios both up and down, which is a feature of this processor, but is not supported on all boards. The ASUS overclocks further than any other stock board we tested, and it recovers from bad overclocks gracefully. If the OC is close a reboot will usually allow further adjustment. If the OC is far off you need to physically turn off the power then restart to further adjust the BIOS. This is a much more friendly board for OC than the Intel BadAxe, for instance, that will not recover from any failed OC without a full power down and sometimes a CMOS clear.
The ASUS P5W-DH Deluxe also fully supports dual X8 CrossFire. The Enthusiast wanting to overclock Conroe as far as possible or anyone wanting to run ATI multi-GPU on an Intel chipset will be very happy with the P5W-DH. We liked the board enough that it became our new standard board for our DDR2 memory testing platform.
Overclocking
ASUS P5W-DH Deluxe
Overclocking Testbed
Processor:
Intel Core 2 Duo E6700
Dual Core, 2.67GHz, 4MB Unified Cache
1066FSB, 10x Multiplier
CPU Voltage:
1.525V (default 1.2V)
Cooling:
Tuniq Tower 120 Air Cooling
Power Supply:
OCZ GameXstream 700W
Memory:
Corsair Twin2X2048-PC2-8500C5 (2x1GB)
(Micron Memory Chips)
Hard Drive
Hitachi 250GB 7200RPM SATA2 16MB Cache
Maximum OC:
(Standard Ratio)
400x10
4000MHz (+50%)
The decision was reached to evaluate motherboards with the E6700 (2.67) processor, as it represents the mid-range of Conroe pricing. Of course, all Conroe processors except for the top X6800 are multiplier locked, which limits options in overclocking. Like Socket 478 that does not appear a huge handicap, since the stock E6700 reached a 50% overclock at 4.0 GHz. Our new OC test bed uses an excellent air cooler in the Tuniq Tower, and you are likely to experience lower overclocks with stock cooling.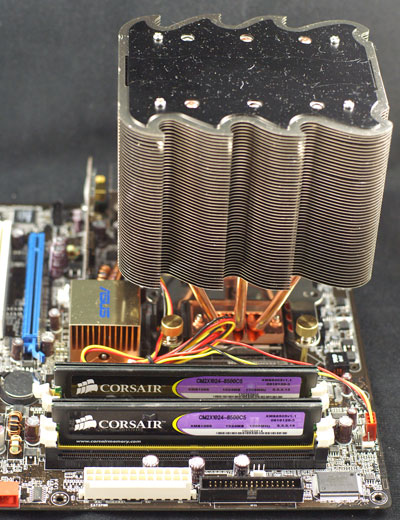 The ASUS P5W-DH also reached 4.0GHz with an X6800 (stock 266 x15 at 1.575V) and an E6600 at 445FSB x 9x multiplier. All of these results are outstanding, representing overclocks at stock ratio as high as 67%.
With the wide range of adjustable memory ratios and voltages, memory was set to end up somewhere around DDR2-800 3-3-3-9 at 2.2V. This is really easy with the ASUS P5W-DH BIOS, since the BIOS shows the resulting memory speed when you adjust the FSB speed. This means you don't have to calculate the resulting memory speed when trying to set up a rational overclock, which is a really convenient feature for most enthusiasts.
Overclocking is always dependent on the chip you have and the capabilities of the motherboard. Processors vary in their OC abilities, and OC is never a given. However, we are confident that wherever you can go with your CPU it is not likely the ASUS P5W-DH Deluxe will be holding back your overclocking efforts.