Chipsets
At launch the
only
chipsets available for Conroe are from Intel. These consist of an updated 975X that must clearly state it is "Intel Core 2 Ready". There is also a brand new Intel 965 chipset, and all 965 chipset boards will support Conroe.
NVIDIA has also shown Conroe chipsets, but they will not be launched for at least several weeks. NVIDIA chipsets will support SLI on Conroe, first as dual X8, which is being shown today with the ASUS P5N32-SLI, which is an updated nForce4 chipset board for Conroe. There are not any NVIDIA nForce 500 boards available at this time that support Conroe, but they are reported to be coming in early August - in both dual X8 and dual X16 flavors.
ATI is also launching chipsets for Conroe. RD500, which supports dual X8 PCIe slots, is expected in early September. We are told the pricing will be very attractive, offering a multi-GPU solution at a mainstream price. Later this year RD600 will be launched, with full support for dual X16 PCIe on Core2 Duo.
On the low-end, some vendors have managed to rework some boards with the VIA P8T880 chipset to support Conroe. Those updated boards are already starting to appear and an ASRock version is included in this Buyers Guide. However, the VIA PT880 PRO chipset does not fully support PCIe graphics, and the boards are a hybrid supporting AGP 8x and PCI Express 4X. PCIe graphics performance is compromised in this solution, but it does allow the use of a low-priced board for Conroe with an older AGP card or low-end PCIe video. Finally, we are awaiting delivery of budget to value performance boards based upon the Intel 945P, 946PL, SIS662, and ATI RS600 chipsets.
Intel P965 Express
At launch the only new chipset for Conroe is the Intel P965 Express. The labeling is a bit confusing since we have had the high-end Intel 975 chipset available for over 6 months. Intel's usual practice is the lower numbered chipset pair is mainstream, while the top chipset is aimed at the Enthusiast. P965 Express is supposedly different because it features a new, faster, and lower latency memory controller than the 975, and it is the only current Intel chipset to support the new ICH8R south bridge.
This would lead us to believe that the P965 Express is the natural choice for Conroe, but there are some other odd things about the P965 architecture that tell us it will still be second choice for many Conroe buyers. The 975X for Conroe has two X8 PCIe slots that support ATI CrossFire: The 965 has at most an X16 PCIe slot and an X4 PCIe slot and
does not
support CrossFire. At present no Intel chipset supports NVIDIA SLI, and only the 975 chipset can support CrossFire.
In addition we have found that in real-world testing the 975X is still faster than P965 with the current immature BIOS revisions. What's more, the P965 often does not support the overclocks we see on 975X chipsets, and the P965 boards we test in this roundup do not allow higher multipliers to be selected with X6800 Core 2 Duo processors; the 975X boards for Core 2 Duo allow multipliers both above and below the rated multiplier to be selected on X6800.
Intel claims P965 Express is the chipset with the improved memory controller, but our latency measurements in
the Core 2 Duo launch review
last week showed the 975X also fares very well with the new memory intelligent pre-fetch design used for Conroe. Where P965 Express does appear to have a distinct advantage is in the use of the ICH8 south bridge.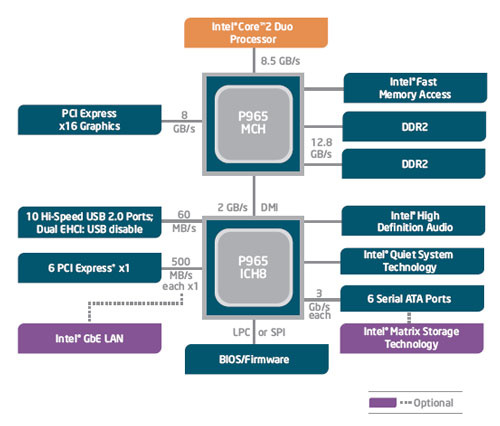 ICH8 increases total USB ports to 10 and High Speed (3Gb/s) SATA 2 ports are increased to 6. The additional USB and SATA2 ports are welcomed, but ICH8 may become more famous for what it eliminated. There are no IDE ports at all on ICH8, which means the only support for optical drives is SATA2. Since SATA2 optical drives are still very hard to find and more expensive than IDE optical drives, most manufacturers are including an additional chip like the JMicron JMB363 PATA/SATA controller to add the missing IDE support.