Gaming Performance using Quake 4, Battlefield 2 & Half Life 2 Episode 1
Our gaming performance analysis starts out with Quake 4 running at 1600 x 1200 with High Quality visual settings. We used version 1.2 of Quake 4 and SMP was enabled: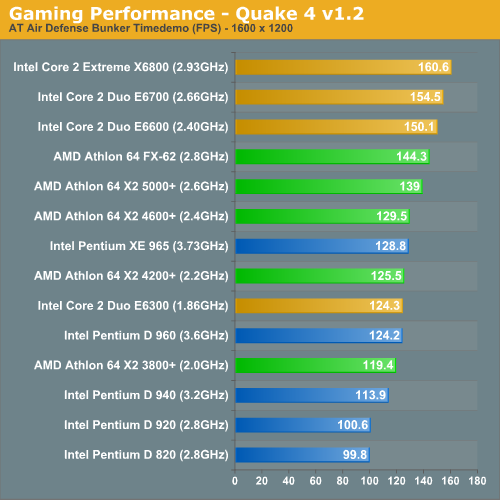 The performance advantage in Quake 4 starts off high, but not astronomical for the Core 2 processors. The Core 2 Extreme X6800 is just over 11% faster than the Athlon 64 FX-62, mainly because we're looking at it in a more GPU bound light than we have in the past. Regardless, it is a performance advantage and far better than the older days of NetBurst chips where Intel's best could barely keep up with AMD.
Looking at Battlefield 2 performance, Intel begins to improve its gaming performance lead as we are becoming more CPU bound: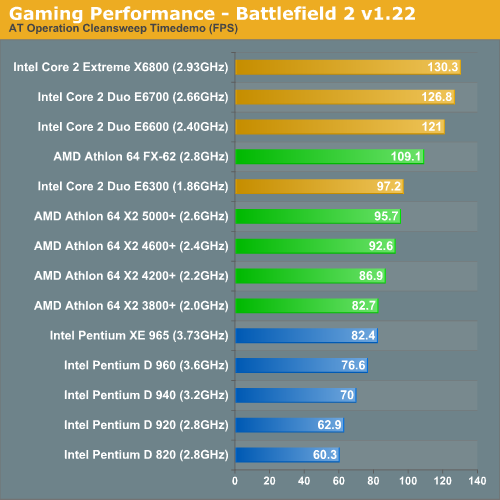 The Core 2 Extreme X6800 now attains a 19% performance lead over the FX-62, and the E6600 manages a 10.9% advantage itself.
Next up we've got the recently released Half Life 2: Episode 1, running at default quality settings (auto detected with a pair of X1900 XTs installed) with the exception of AA and aniso being disabled. As with all of our gaming tests in this article we tested at 1600 x 1200: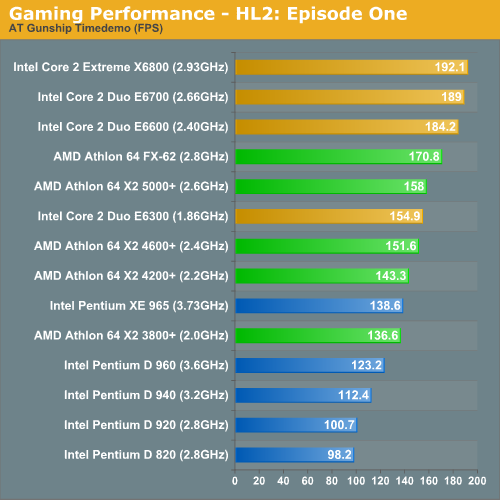 Half Life 2: Episode 1 provided us with numbers closer to what we saw with Quake 4, the performance advantage here is just over 12% for the X6800 over the FX-62. With a couple of speed bumps, AMD could equal Intel's gaming performance here. But the real issue for AMD is the fact that the E6600 priced at $316, is able to outperform the FX-62 at over twice the price. The E6300 continues to provide a great value but isn't nearly as impressive as the rest of the Core 2 line.