Dell Test results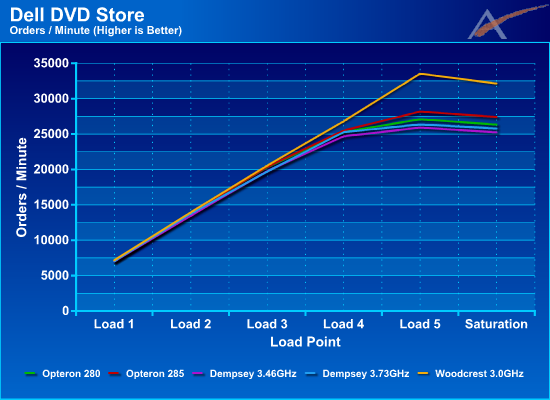 At the first three load points all platforms are within 4% of each other. At the fourth load point the spread opens up and Woodcrest leads the Opteron 285 by 5% and Dempsey 3.73 by 6%. Finally, at the fifth load point, Woodcrest is able to lead the Opteron 285 by 19% and Dempsey 3.73 by 27%. It is interesting to note in this graph, and other upcoming performance graphs, that Woodcrest scales linearly to the fifth load point but the others stop scaling linearly between the third and fourth load points.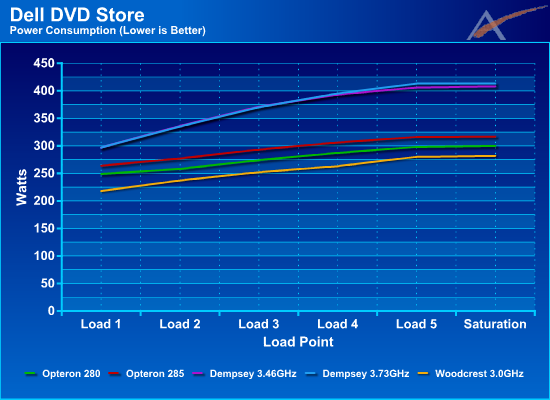 Woodcrest is clearly the lowest consumer of power and leads the Opteron 285 by 11%-17%, and Dempsey 3.73 by 27%-33%. FB-DIMMs do consume more power than regular DDR2 memory, which partially offsets some of the advantage of the Core architecture.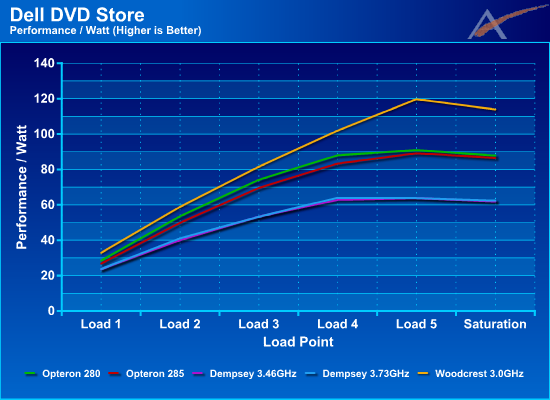 When we combine performance and power and come up with Performance/Watt we get a very different picture. In this graph we see that Woodcrest is the clear leader at all load points and leads the Opteron 285 by 17% - 34%, and Dempsey 3.73 by 39%-88%. It is also interesting to note that the Opteron 280 outperforms the Opteron 285 on a Performance/Watt measure while Dempsey performance scales almost linearly with power. This often is an indication that the architecture is reaching its clockspeed limits, which is certainly the case as the only faster dual core K8-based chip presently available is the FX-62.