For a platform and CPU that were almost invisible before their May 23rd launch, AM2 and the supporting AM2 chipsets are proving to be remarkably mature.
Part 1
and
Part 2
of our AM2 roundup examined four AM2 motherboards based on the nForce 500 family of chipsets. Three were based on the top-end 590 SLI chipset and one was based on the mainstream 570 SLI chipset. Part 3 looks at two of the most exciting nForce 500 motherboards that have been evaluated - the readily available top-end ASUS M2N32-SLI Deluxe and the mainstream Epox MF570SLI.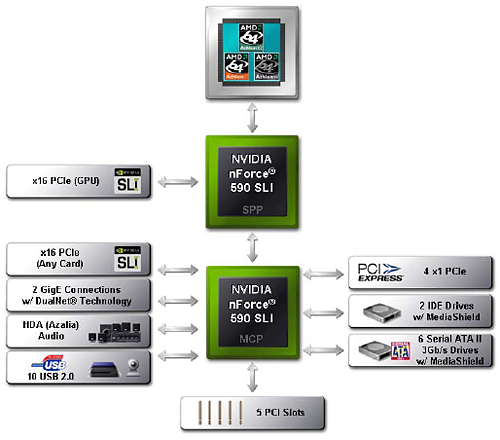 The ASUS M2N32-SLI was quickly out the door as the Reference Board supplied by AMD for the AM2 launch. CPU manufacturers are always careful about Reference Boards and AMD's confidence in the ASUS AM2 platform speaks highly of the board's stability and performance. Our review here is based on the full retail version of the M2N32-SLI Deluxe, complete with on-board wireless 802.11 b/g and dual-Gigabit LAN ports that can be "teamed" to create a 2Gb port. The review board is currently available at many on-line e-tailers and local computer shops. For more information on pricing and availability of the M2N32-SLI Deluxe please refer to the just-published
Price Guide, June 2006: Motherboards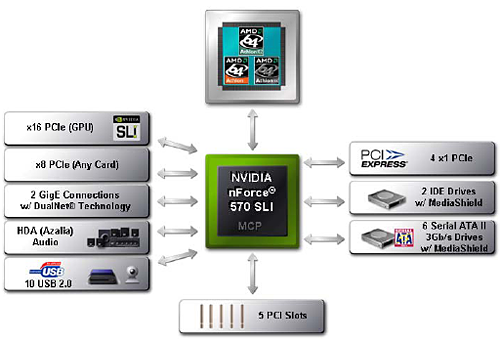 Just below the nForce 590 for AM2 is the single X16/dual X8 nForce 570 SLI. The 570 SLI uses the same new 590 chip as the top-end chipset, but it does not supply the second SPP chip for the additional X16 PCIe support.
nForce 500 Specifications
NVIDIA nForce
590 SLI
NVIDIA nForce
570 SLI
NVIDIA nForce
570 Ultra
NVIDIA nForce 550
Segment
Enthusiast SLI
(2 X16)
Performance SLI
(2 X8)
Performance
Mainstream
CPU Suggestion
Athlon 64 FX
Athlon 64 X2
Athlon 64
Athlon 64 FX
Athlon 64 X2
Athlon 64
Athlon 64 FX
Athlon 64 X2
Athlon 64
Athlon 64
Sempron
SLI Technology
Yes
Yes
No
No
NVIDIA LinkBoost
Yes
No
No
No
NVIDIA FirstPacket
Yes
Yes
Yes
No
NVIDIA DualNet
Yes
Yes
Yes
No
Gigabit Connections
2
2
2
1
Teaming
Yes
Yes
Yes
No
TCP/IP Acceleration
Yes
Yes
Yes
No
MediaShield
Yes
Yes
Yes
Yes
SATA / PATA Drives
6 SATA
2 PATA
6 SATA
2 PATA
6 SATA
2 PATA
4 SATA
2 PATA
RAID
0, 1, 0+1, 5
0, 1, 0+1, 5
0, 1, 0+1, 5
0, 1, 0+1
NVIDIA nTune 5
Yes
Yes
Yes
Yes
PCI Express Lanes
46
28
20
20
Links
9
6
5
5
USB Ports
10
10
10
10
PCI Slots Supported
5
5
5
5
Audio
Azalia
Azalia
Azalia
Azalia
570 SLI also does not support all the NVIDIA auto-overclocking features like LinkBoost as you can see in the above chart. 570 is clearly a mainstream part, but performance should be at the same level as nForce 590. The most important distinction is support for dual X16 PCIe on 590 versus support for dual X8 PCIe on 570 SLI. For more information and a detailed comparison of the nForce 500 family chipsets please refer to
nForce 500: nForce4 on Steroids?
The Epox MF570SLI is based on this mainstream 570 SLI chipset. You will see in the review of this board that you can still find an incredibly well-appointed board with almost every overclocking option you can imagine in a mainstream-priced board.