We are wrapping up our
Computex 2006 coverage
and although there are still hundreds of various products to discuss, we need to get back to the business of reviewing some of the products that are actually available. We will close our coverage with a look at a few external storage products, cooling items, and some miscellaneous items we found in our travels.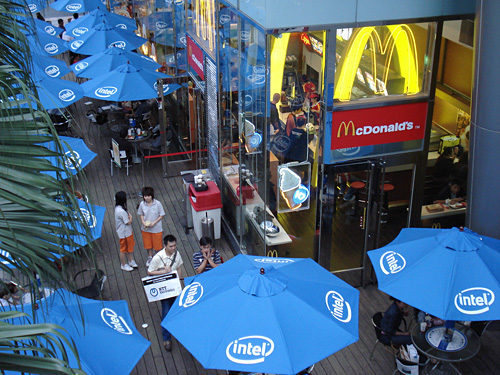 As we mentioned in our
previous coverage
, Intel really was everywhere at this show. Generally speaking, the majority of the products we viewed were evolutionary in nature. While there were some unique products such as the Thermaltake Mozart TX that took a completely different spin on a decades-old idea or the various USB 2.0 Flash Drive designs from A-Data, there really were no revolutionary products that we could find in our travels. We kept looking for a product that would just reach out and grab our attention - you know, the type that would cause lust in our hearts and put our brains into action trying to figure out how to come home with it at any cost. However, in the end we ended up viewing a lot of interesting products but ones that kept our Visa cards safely secured. That is not to say there were not a few products that we lusted after, like our Intel Core 2 Extreme
X6800
loaner that stayed with us for the briefest of moments, but overall the show was about maturity in the personal computer market and evolutionary strides in product designs.
External Storage Products:
SansDigital
We stopped by the
SansDigital
booth to view their new Mobile Silver line of products. While they have been marketing their AccuRAID (2U Rackmount), EliteStor (1U Rackmount), and EliteRAID (3U Rackmount) products into the business sector for some time, it is their MobileStor and MobileRAID products they are featuring for the home and small office user that we found to be interesting.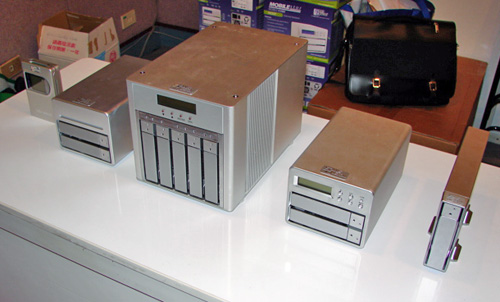 This is a small sampling of the Mobile Silver lineup of products that feature everything from a 2.5 inch Portable Hard drive enclosure to the five-drive external RAID enclosure featuring a SCSI Ultra 320 or SATA 3Gb/s interface.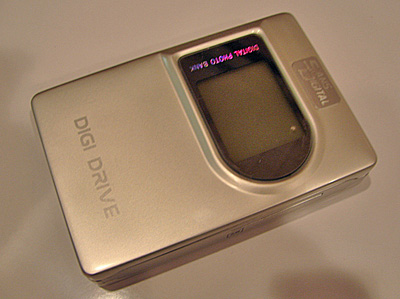 The MS1U enclosure features support for 2.5 inch IDE hard drives up to 160GB in size, USB 2.0 interface, and 9-in-1 multi-format memory card reader/writer along with single button backup capability from the memory card to the hard drive.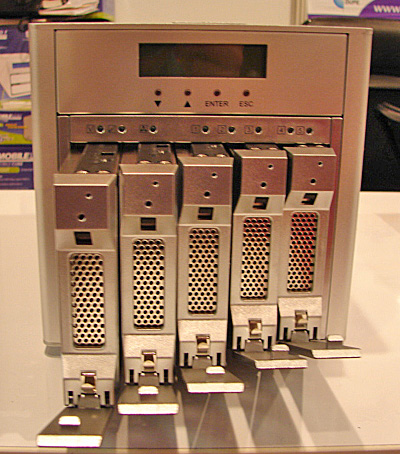 The MR5S1 is a five bay external RAID enclosure that can be configured with either a SCSI Ultra 320 or SATA 3Gb/s interface. The enclosure supports RAID 0, 1, 10, 3, 5, 6, JBOD, and Hot Spare Disk. It also offers Online Array roaming, online RAID level/stripe size migration, online RAID capacity expansion and RAID level migration. If you're still following us, the feature list concludes with automatic insertion/removal detection and rebuild; Hard Disk, Fan and Temperature failure detectors; and a common drive carrier that can be used with all MobileStor enclosures.