The Card
The Theater 650 may sport some new features, but the actual card is very similar to the older Theater 550 in size and appearance. The board we have is green in color, which is uncharacteristic of ATI parts (usually their cards are red, or in the A-I-W's case dark purple) but this is likely just because our card is a reference part, and the actual product color will depend on manufacturer preference. Aside from the color, the connections are exactly the same as on the 550, with the Antenna/FM and cable TV inputs, as well as an audio/video input at the bottom.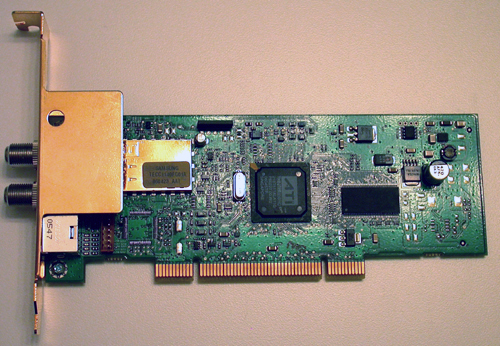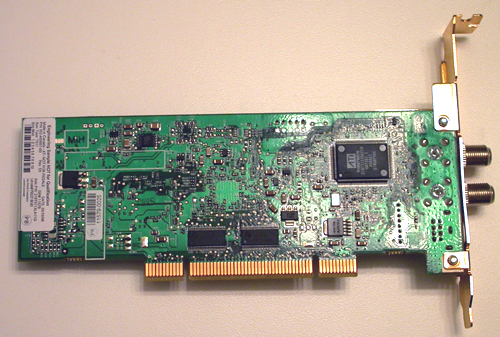 Being a reference part, our card didn't come with any kind of software bundle, but depending on which manufacturer distributes the card, it will most likely be packaged with the same types of software and accessories that 550 cards come with. Some of the partners who will be distributing the Theater 650 are well known companies like MSI , PowerColor, ASUS, Sapphire and VisionTek.
Architecture
The architecture of the Theater 650 is very similar to the 550, but with a few in changes. The 650 (for NTSC/ATSC countries) includes a Samsung mini-can tuner capable of tuning both analog and digital channels. The "mini-can", from what we understand, is an analog tuner (like the old tin-can tuners that wasted huge amounts of board space) shrunken down to fit in the same area as a silicon tuner. This is a best of both worlds situation where we don't need to worry about the board space of a tin-can, and we shouldn't run into the tuning speed issues we can sometimes see on silicon tuners.
The tuner feeds into both a Theater 311 demodulator and the Theater 650 chips. The Theater 311 digital demodulator supports over-the-air DTV (ATSC) with an indoor antenna. This is an in-house demodulator designed by ATI for their digital TV group, and ATI is very proud of the quality of this part. Testing the Theater 311 and the digital TV capabilities of the Theater 650 are beyond the scope of this article, but we will certainly be looking into these features in the future.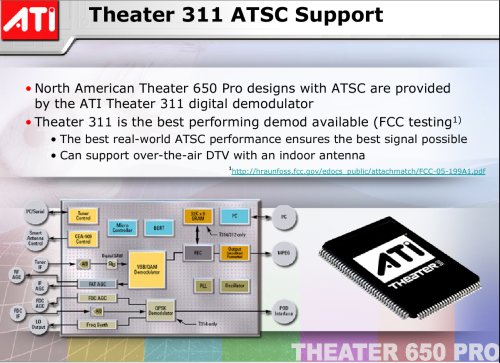 As the tuner feeds into the Theater 650 chip, the signal is internally demodulated and passed into the image processing engine. This is where functions including 3D comb filtering, motion adaptive noise reduction, de-interlacing, and edge enhancement take place. After this step, the cleaned up video flows over to the MediaDSP Encode Engine. Here, ATI is capable of performing the media center requisite MPEG-2 encoding in hardware. In addition to this feature, ATI has included the ability to encode to MPEG-4 (DivX and H.264) and WMV9, through the upcoming Catalyst Media Center software. These are features we are certainly interested in testing when we are able to do so.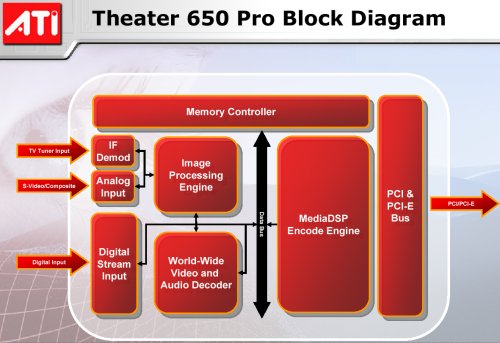 We are quite happy to note that with all the additional filtering and feature capabilities ATI has included, they will also be enabling end users to adjust all of these settings at a very low level. Users who know exactly what they want from noise reduction, edge enhancement, and all the other filters will be able to tweak the settings as necessary.
Features
Let's talk a little bit now about the features of the Theater 650. Being the next installment of ATI's Theater series, it will naturally include many of the features of the previous Theater 550 like worldwide audio and NTSC and PAL video standards. However, this time around ATI has added many new features not included in their older cards, or in many competing solutions for that matter.
Firstly, as we mentioned in our introduction, one of the more interesting new features of the Theater 650 is its added digital capabilities. The card is touted by ATI as using next-generation DTV technology which is not yet available in consumer electronics. Basically, the Theater 650 provides digital TV support in ATSC (Advanced Television Systems Committee) for US, Canada, Mexico, and South Korea, as well as DVB-T (Digital Video Broadcasting Terrestrial) for European digital standards. Again, this is one of the first PC tuner cards to incorporate this feature, and certainly the first with the brand recognition of ATI.
ATI has also added some features to the 650 which address image quality, and should provide a better looking video stream. Motion adaptive 3D comb filtering has been included, which will provide sharper video and less false color. Edge enhancement has also been added to improve on image sharpness, and ATI has thankfully given users the option to turn this off, as many users prefer having control over this aspect. Better noise reduction is incorporated as well, and it is now motion compensated for sharper images with less static. Another feature is updated automatic gain and color control, which will provide brighter colors and faster brightness adjustment.
ATI has also designed the Theater 650 to be supported by the new Catalyst Media Center software which will replace ATI's previous Multimedia Center. There will be a new interface and it will provide much more user control over different aspects of video quality (like filters), which is a welcome feature.
All of these features add up to an impressive package which looks to be a significant improvement over the previous Theater cards by ATI. Specifications and buzzwords don't always correlate to a dramatic improvement in real-world applications, however, so we of course need to do some actual testing to see how image quality and CPU utilization on the Theater 650 compares to the Theater 550 and the NVIDIA DualTV MCE.