Battery Life
We used MobileMark 2005 to test battery life. We limited testing to the productivity and DVD playback tests, as the Reader 2002SE and Wireless results are generally very close to the productivity results. Screen brightness was set to 3/8 on all three laptops, which represents a value relatively close to 70 nits.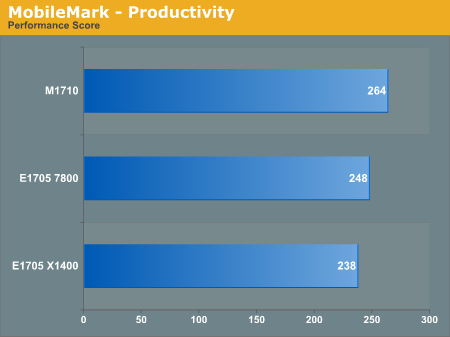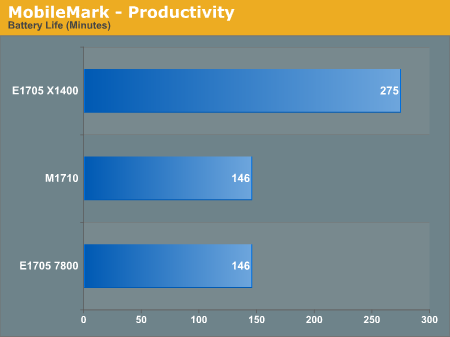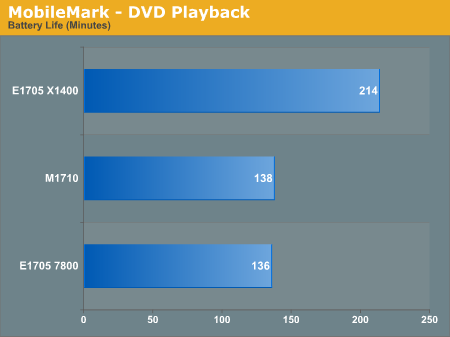 While it's true that power draw can be reduced relative to our AC power tests, the end result is that the X1400 configuration continues to lead by a large margin. The GeForce Go 7800 and 7900 GTX both apparently power down to a similar level when running off the battery, as battery life is nearly identical. Meanwhile, the E1705 with Radeon Mobility X1400 offers 57- 88% more battery life.
The productivity result in particular, lasting over 4.5 hours, is extremely impressive. Three hours of DVD playback is also nothing to scoff at, especially on those longer flights. Sure, productivity performance is slightly lower than the other systems, but it is doubtful most people will notice the difference. An extra hour or two of battery life on the other hand....