BFG PhysX and the AGEIA Driver
Let us begin with the BFG PhysX card itself. The specs are the exact same as the ASUS card we previewed. Specifically, we have:
130nm PhysX PPU with 125 million transistors
128MB GDDR3 @ 733MHz Data Rate
32-bit PCI interface
4-pin Molex power connector
The BFG card has a bonus: a blue LED behind the fan. Our BFG card came in a retail box, pictured here: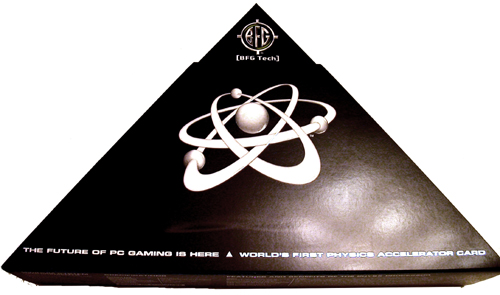 Inside the box, we find CDs, power cables, and the card itself: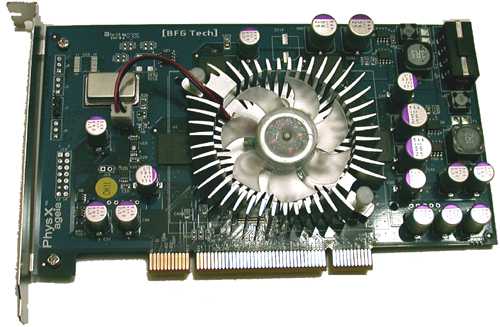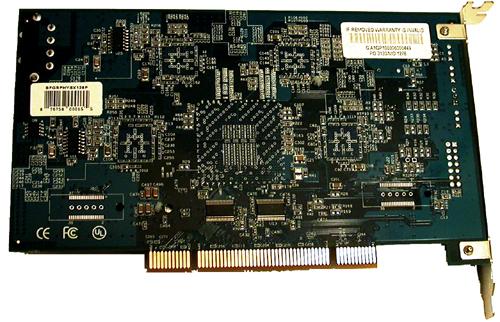 As we can see here, BFG opted to go with Samsung's K4J55323QF-GC20 GDDR3 chips. There are 4 chips on the board, each of which is 4 banks of 2Mb x 32 RAM (32MB). The chips are rated at 2ns, giving a maximum clock speed of 500MHz (1GHz data rate), but the memory clock speed used on current PhysX hardware is only 366MHz (733MHz data rate). It is possible that lower than rated clock speeds could be implemented to save on power and hit a lower thermal envelope. It might be possible that a lower clock speed allows board makers to be more aggressive with chip timing if latency is a larger concern than bandwidth for the PhysX hardware. This is just speculation at this point, but such an approach is certainly not beyond the realm of possibility.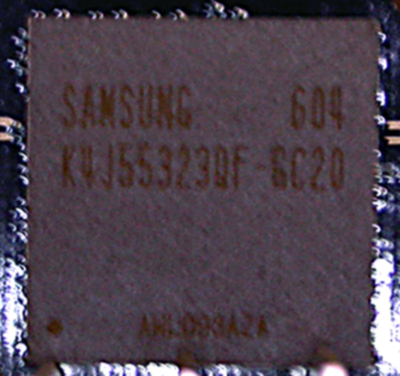 The pricing on the BFG card costs about $300 at major online retailers, but can be found for as low as $280. The ASUS PhysX P1 Ghost Recon Edition is bundled with GRAW for about $340, while the BFG part does not come with any PhysX accelerated games. It is possible to download a demo of CellFactor now, which does add some value to the product, but until we see more (and much better) software support, we will have to recommend that interested buyers take a wait and see attitude towards this part.
As for software support, AGEIA is constantly working on their driver and pumping out newer versions. The driver interface is shown here: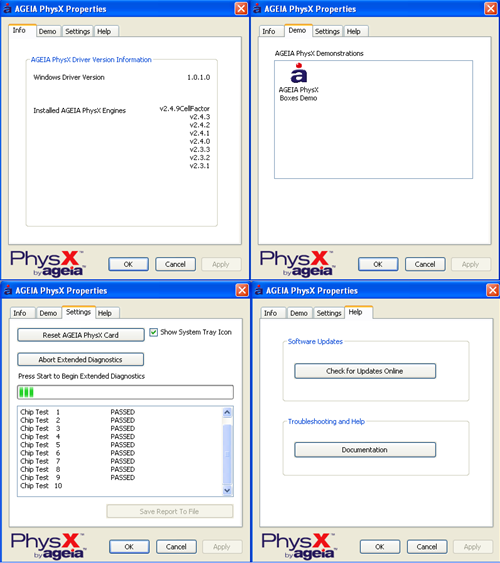 Click to enlarge
There isn't much to the user side of the PhysX driver. We see an informational window, a test application, a diagnostic tool to check or reset hardware, and a help page. There are no real "options" to speak of in the traditional sense. The card itself really is designed to be plugged in and forgotten about. This does make it much easier on the end user under normal conditions.
We also tested the power draw and noise of the BFG PhysX card. Here are our results:
Noise (in dB)
Ambient (PC off): 43.4
No BFG PhysX: 50.5
BFG PhysX: 54.0
The BFG PhysX Accelerator does audibly add to the noise. Of course, the noise increase is nowhere near as bad as listening to an ATI X1900 XTX fan spin up to full speed.
Idle Power (in Watts)
No Hardware: 170
BFG PhysX: 190
Load Power without Physics Load
No Hardware: 324
BFG PhysX: 352
Load Power with Physics Load
No Hardware: 335
BFG PhysX: 300
At first glance these results can be a bit tricky to understand. The load tests were performed with our low quality Ghost Recon Advanced Warfighter physics benchmark. Our test "without Physics Load" is taken before we throw the grenade and blow up everything, while the "with Physics Load" reading is made during the explosion.
Yes, system power draw (measured at the wall with a Kill-A-Watt) decreases under load when the PhysX card is being used. This is made odder by the fact that the power draw of the system without a physics card increases during the explosion. Our explanation is quite simple: The GPU is the leading power hog when running GRAW, and it becomes starved for input while the PPU generates its data. This explanation fits in well with our observations on framerate under the games we tested: namely, triggering events which use PhysX hardware in current games results in a very brief (yet sharp) drop in framerate. With the system sending the GPU less work to do per second, less power is required to run the game as well. While we don't know the exact power draw of the PhysX card itself, it is clear from our data that it doesn't pull nearly the power that current graphics cards require.