Introduction
Last week, we took a first look at the new
PhysX add-in physics accelerator from AGEIA
. After our article was published, AGEIA released an update to their driver that addresses some of the framerate issues in Ghost Recon Advanced Warfighter. While our main focus this time around will be on BFG's retail part, we will explore the effectiveness of this patch and go a little further in-depth with the details behind our performance analysis.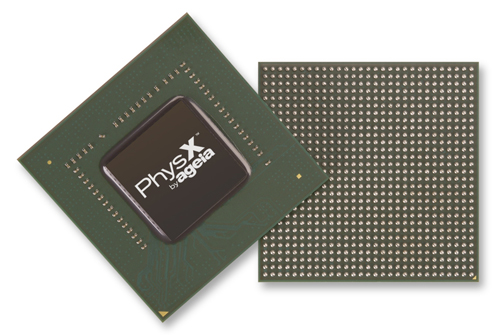 In addition to the BFG retail PhysX card and Ghost Recon update, we will take a look at a few demos that require the PhysX card to run. While there aren't any games scheduled to come out in the near future that will take this new technology to the extreme, it will be nice to get a glimpse into the vision AGEIA has for the future. Getting there will certainly be a hard road to travel. Until more games come out that support the hardware, we certainly can't recommend PhysX to anyone but the wealthy enthusiasts who enjoy the novelty of hardware for hardware's sake. Even if PhysX significantly enhances the experience of a few games right now, it will be a tough sell to most users until there is either much wider software support, good games which require the hardware, or a killer app with a PhysX hardware accelerated feature that everyone wants to have.
As for games which will include PhysX hardware support, the only three out as of this week are Tom Clancy's Ghost Recon Advanced Warfighter (
GRAW
), Rise of Nations: Rise of Legends (
ROL
) and City of Villains (
COV
). Rise of Legends came out last week, and we have been extensively testing it. Unfortunately, PhysX hardware support will only be added in an upcoming patch for which we have no real ETA.
We worked very hard to test City of Villains, and we finally succeeded in creating a repeatable benchmark. The specific content in City of Villains which supports the AGEIA PhysX PPU (physics processing unit) is a series of events called the Mayhem Missions. This is a very small subset of the game consisting of timed (15 minute) missions. Currently these missions are being added in Issue 7 which is still on the test server and is not ready for primetime. Full support for PhysX was included on the test server as of May 10th, so we have benchmarks and videos available.
Before we jump into the numbers, we are going to take a look at the BFG card itself. As this is a full retail part, we will give it a full retail workup: power, noise, drivers, and pricing will all be explored. Our investigations haven't turned up an on-chip or on-board thermistor, so we won't be reporting heat for this review. Our power draw numbers and the size of the heat sink lead us to believe that heat should not be a big issue for PhysX add-in boards.