Oblivion CPU Performance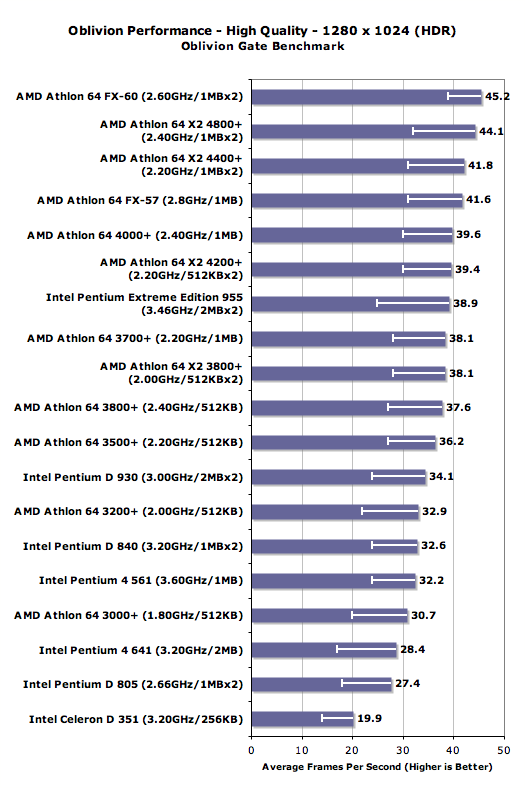 Here's one thing we really didn't expect, for our most GPU intensive test to be extremely CPU dependent as well. In its natural state with no out-of-game tweaks, Oblivion will give dual-core CPUs about a 10% increase in performance over their single core counterparts at the top of our charts. Moving down the graphs, the X2 3800+ has a 15% performance advantage over the 3200+, while the Pentium 930 has a 20% advantage over a higher clocked Pentium 4 641.
While 10% may not sound like a lot, especially given that our FRAPS benchmarks can vary by up to 5% between runs, keep in mind that this is an extremely GPU intensive benchmark. A 10% difference with the fastest clockspeeds available is pretty significant. Intel clearly has more need of help, and the larger 15-20% boost they get from dual-core processors is nice to see. Unfortunately, it's not nearly enough to catch up to AMD's competing offerings.
As we've seen in other games, AMD's Athlon 64 X2 and vanilla Athlon 64 are the way to go, taking up the overwhelming majority of the top spots in this graph. The Pentium Extreme Edition 955 is about the only Intel CPU that is significantly competitive here; the Pentium D 930 is the next time that Intel makes another appearance and it offers performance lower than the single core Athlon 64 3500+.
Later in this review we will look at another way of characterizing CPU performance in Oblivion, but rest assured that this graph is far more important than just stating for the millionth time that the Athlon 64 FX-60 is faster than the Athlon 64 3500+....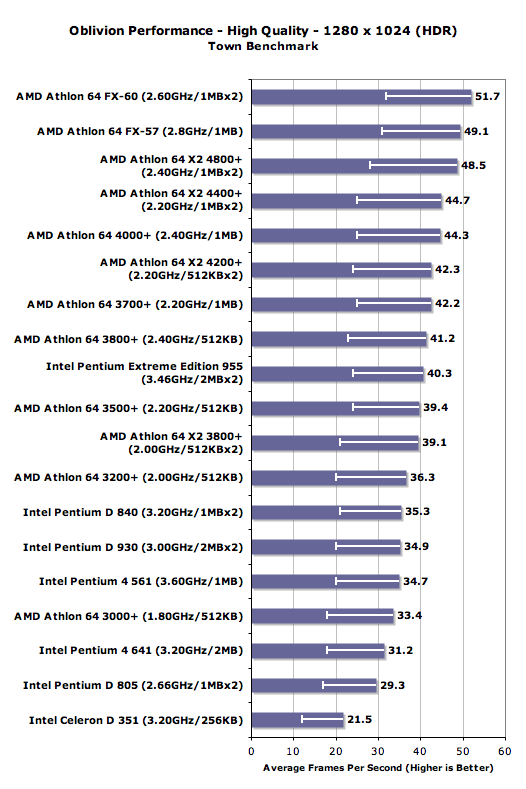 Once again, we see a 10-15% boost from dual core CPUs in our Town benchmark. The rest of the standings and performance echo what we saw in the Oblivion Gate test above. The usefulness of the Radeon X1900 XT CrossFire setup diminishes significantly as you begin to move down the list of contenders; you'll actually lose over 20% of your real world frame rate if you've got an Athlon 64 3500+ vs. if you had an Athlon 64 FX-60. These aren't low resolution tests designed to isolate the impact of your CPU, these are tests at reasonable display settings for the GPU setup and these are real world results.
Oblivion also clearly benefits from larger CPU caches. The abysmal performance of the Celeron D 351 exemplifies this statement, but you can also look at higher performing parts. The difference between the Athlon 64 3700+ and the 3500+ is around 5-7%, which is more than many other titles show.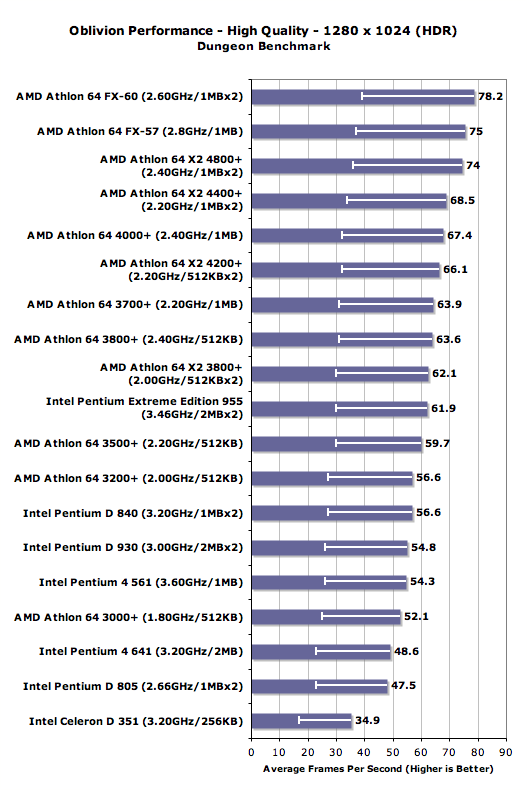 Our final Oblivion benchmark delivers the same message we've seen in the first two: CPU performance matters. But the real question is, how fast of a CPU do you really need to make your GPU investment worthwhile? That's the question we're answering next...