GPU Performance vs. CPU Clock Speed
For these tests, we took a single core AMD Athlon 64 (1MB L2) and increased its clock speed from 1.8GHz all the way up to 2.6GHz, measuring performance at each step of the way. The image quality settings haven't changed; what we're looking for here is if there's a pattern in the CPU/GPU relationship.
We picked four GPUs to look at their CPU dependency: the Radeon X1900 XT CrossFire, X1900 XT, X1800 XT and X1800 XL. We chose these four configurations because they represent the best ultra high end, high end, upper mid-range and mid-range GPUs for Oblivion. Our main interest is in finding out if there is a point at which the best mid-range GPU ends up being faster than the best high end GPU because of being paired with a faster CPU, or if having a faster GPU is really all that matters in Oblivion.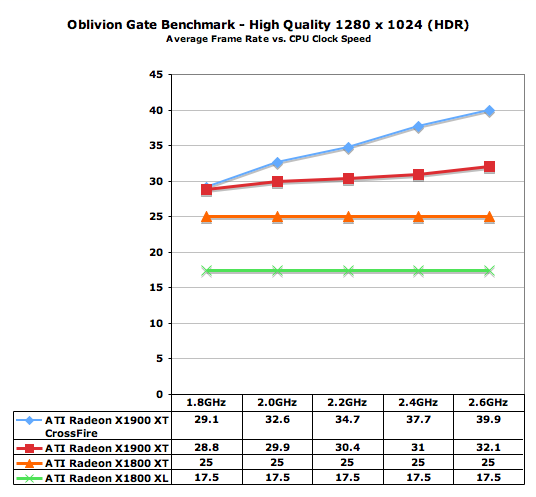 What this graph proves is that our Oblivion Gate benchmark is really only CPU bound if you've got a pair of X1900 XTs in CrossFire. What this does mean is that if you've got a low end Athlon 64, you won't see much of a performance difference between a single X1900 XT and a pair of them running in CrossFire mode. But for the most part this benchmark is no different than what we've seen from other games, with the X1900 XT, X1800 XT and X1800 XL being basically GPU bound - let's see if our other two tests show the same picture.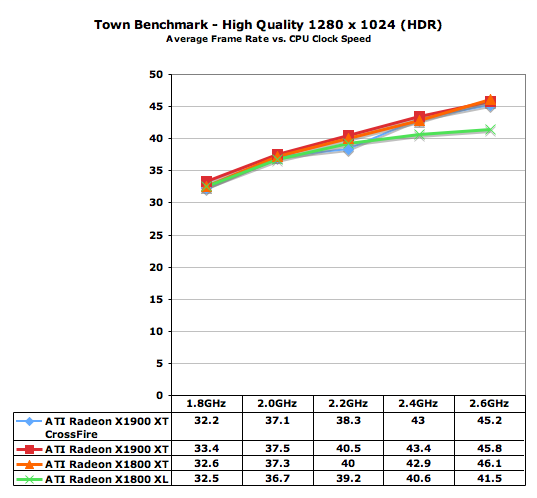 The Town benchmark is extremely CPU bound as you can see by this graph, and in Oblivion you do spend quite a bit of time walking around in towns. Being able to isolate the individual lines in this graph isn't very important because they basically all show the same thing, but what is important is to be able to look at the graph two dimensionally. What this graph shows us is that a single X1800 XT paired with a 2.4GHz CPU offers much better performance than an X1900 XT with a 1.8GHz Athlon 64, thus stressing the need to have a balanced CPU and GPU setup in order to avoid wasting money on a fast GPU. We already saw in our GPU performance article that CrossFire (and SLI) do nothing for performance in our Town/Dungeon benchmarks so the behavior here is not surprising.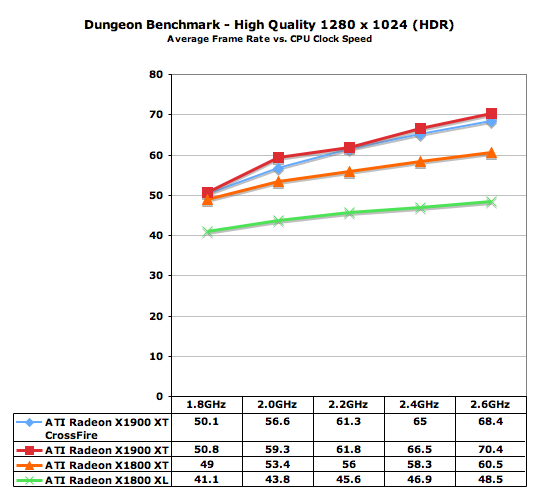 Much to our surprise, the Dungeon benchmark ended up being a lot more GPU bound than the Town test but the conclusions we can draw are very similar. The Radeon X1800 XT does extremely well when paired with a high end CPU and will actually offer the same performance as a Radeon X1900 XT with a lower end or mid range CPU; it isn't until you give the X1900 XT a faster CPU as well that it can really stretch its legs and offer the performance advantage we know it has over its predecessor.