All of the things that wouldn't work on the keyboard in Boot Camp worked just fine in the VM. Ctrl clicking acted as a right mouse button and obviously all of my function keys worked. Parallels' Workstation also comes with a set of tools that you can install in Windows that enable additional functionality such as a clipboard synchronization tool. The sync tool makes it so that anything you copy in one OS is available to be pasted in the other and vice versa, making the VM truly behave like just another application running in OS X.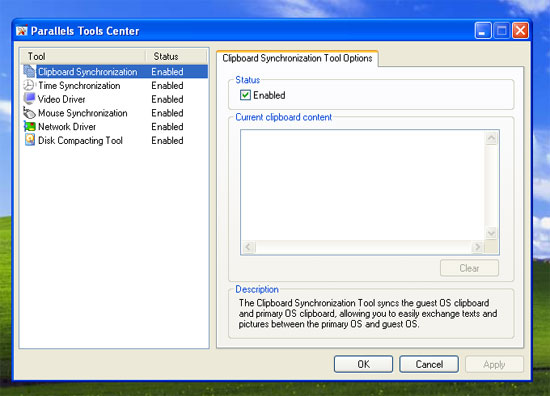 By far the biggest drawback of the Parallels' Workstation VM is that the GPU makers currently don't support any sort of GPU virtualization, meaning all of the graphics are CPU rendered when running the VM. What this translates to are choppy animations and a laggy mouse pointer when you're navigating around Windows XP; of course, don't even think about running any 3D games. There is a Parallels video driver bundled that is supposed to improve things, but you still get nowhere near the performance of hardware accelerated 2D graphics.
Update: While finishing up this article Parallels released beta 3 of their Workstation VMM for OS X, one of its improvements happened to be an increase in performance and an improved mouse synchronization tool. The updates in beta 3 made the mouse lag virtually disappear, which was a huge improvement over beta 2. The animations in Windows XP were still quite laggy unfortunately, but without a real GPU driver that's not going to change. Needless to say, the improvements in beta 3 make Parallels' solution far more interesting as an alternative to Boot Camp.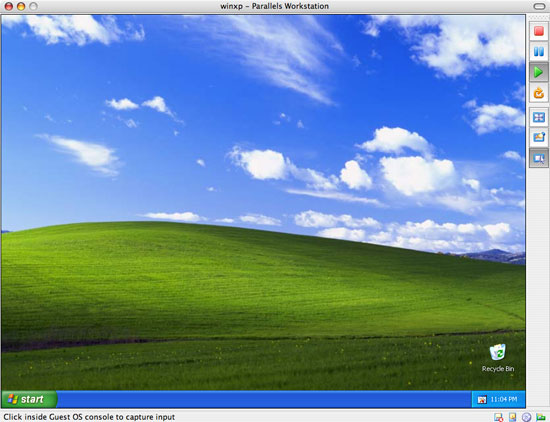 The CPU performance was quite good, although the VM only allows Windows XP to access a single core of the Core Duo processor. In the end, the fact that the MacBook Pro has two cores works out very well for use with a VM manager as the VM can use one of the cores while your other core handles whatever you may be doing in your host OS.
Overall running Windows XP as a VM using Parallels' Workstation is extremely convenient, but personally the choppy animations are annoying enough to the point where I'd almost rather use Boot Camp. I think my preference would change depending on what I needed to be in Windows XP to do. Currently my only needs for Windows XP are when I want to play a game or need IE for a particular website; the former would require Boot Camp while the latter is better suited for a VM solution.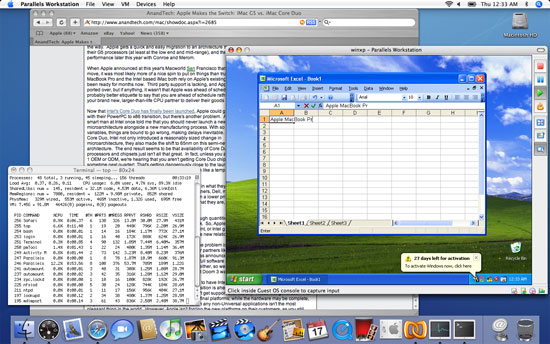 One thing is for sure, the VM route does hold a great deal of potential for the future. Once virtualized graphics and I/O are here, the days of being stuck with a single OS on a single platform will be long gone.