Parallels' Workstation 2.1 Beta w/ Intel VT Support
The biggest downside to Boot Camp is that you have to reboot your system in order to use it. That means you've got to save all of your work, close down all of your apps, stop what you've been working on and head on into Windows. While Boot Camp is extremely convenient for those users who are debating the Mac switch but are worried about going cold turkey, in the long run it's only convenient for those who are going to occasionally be switching between the two OSes.
Even before Boot Camp, Virtual PC and other PC emulators have existed for Mac users that needed to run Windows. The emulators would generally work in a window inside OS X and you could do things like copy text between the two OSes, but most importantly you could run and use Windows without ever logging out of OS X. The downside of course is that performance under emulators like Virtual PC is often terrible, which makes them frustrating to use, especially on slower laptop hardware. Luckily, modern day Intel CPUs - including the Core Duo used in Intel based Macs - support Intel's Virtualization Technology (VT for short) which is designed to make the job of a virtual machine a bit easier and thus increase performance.
One developer of Virtualization software, Parallels, Inc., has released a beta of Virtualization software for OS X with support for Intel's VT. Parallels' solution offers the first hardware accelerated virtualization software for OS X, meaning in theory you should be able to run Windows XP alongside OS X and get almost the same performance as you would if you were using Boot Camp.
Currently Parallels' Workstation 2.1 for Mac OS X is only available as a free trial of Beta 2. It will eventually be sold for $49.99 and you can pre-order it now for $39.99. As a Virtual Machine Manager (VMM), Parallels' Workstation installs from within OS X and doesn't require any reboots or anything like that.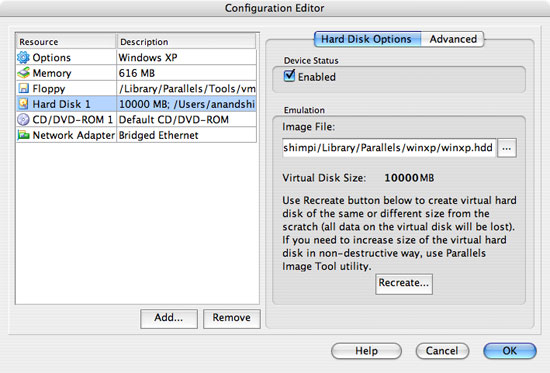 You simply install the application and then start configuring your virtual machines. Although I only played with a Windows XP VM, you can run any version of Windows from 3.1 all the way up to 2003 Server, as well as any Linux distribution, FreeBSD, Solaris, OS/2, eComStation or MS-DOS.
Parallels' Workstation automatically detects and enables Intel VT support if it's present, so there's nothing MacBook Pro users need to do differently to get the most performance out of the hardware. Creating a Windows XP VM requires just a few decision: how big should the hard drive be, how much memory should be allocated to the VM, and what network controller will the VM use? Make those decisions and configure the VM appropriately, and everything is ready for use.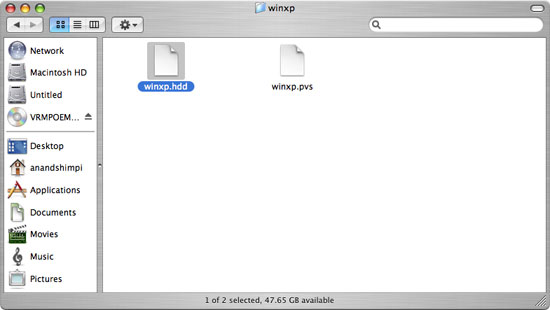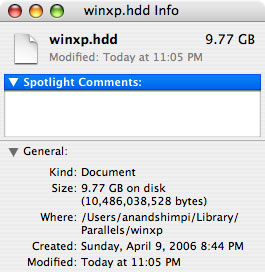 Like my Boot Camp partition, I chose a 10GB drive for the XP VM. The VM's hard drive is treated as a single file in OS X so you don't need to worry about creating any partitions. The VM manager recommended I set aside 616MB of memory for Windows XP and for testing purposes I did just that, although if you really plan on using Windows alongside OS X for a lot of work then I would suggest upgrading to 2GB in your MacBook Pro.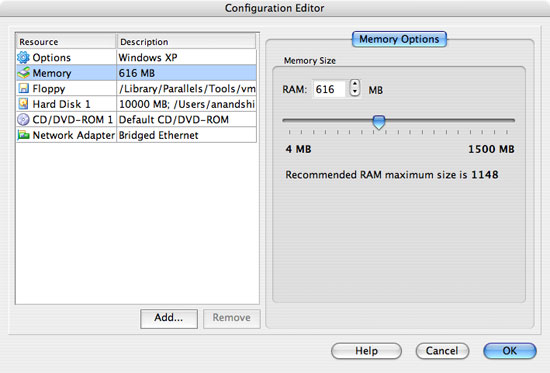 I allowed the VM to use my wireless connection and it appeared as a normal wired Ethernet connection in Windows XP. All network requests that are sent to that virtual network adapter are handed off to the VM which in turn requests them through the wireless adapter in OS X. However the VM manager only lets you bridge a single network connection, so on the MacBook Pro you can only make either your wired or wireless connection available to your VM. Luckily, it's not difficult at all to change this option so it's not too annoying.
Unfortunately I couldn't get the VM to let Windows XP access my CD/DVD drive, so I was forced to make an image of my Windows XP CD to install it. Using OS X's Disk Utility I created a CD/DVD Master image of my Windows XP SP2 disc and renamed it from a .cdr to .iso so the VM would recognize it. I selected it as my CD image and fired up the VM. (This has since been fixed in Beta 3 of Parallels' Workstation 2.1 for OS X.)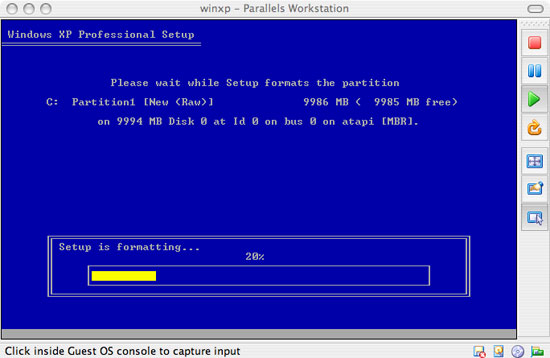 Since the Windows XP image was actually on my hard drive the setup process went extremely fast. With Windows installed, it was time to use it.