Media Encoding Performance using DVD Shrink, WME9, Quicktime and iTunes
First up is DVD Shrink 3.2.0.15. Our test was simple - we took a copy of Star Wars Episode VI and ripped the full DVD to the hard drive without compression, effectively giving us an exact copy of the disc on the hard drive.  Then, using the copy of the DVD on the hard drive (to eliminate any DVD drive bottlenecks), we performed a DVD shrink operation to shrink the movie to fit on a single 4.5GB DVD disc.  All of the options were left on their defaults, so the test ends up being pretty easy to run and reproduce.  The scores reported are DVD encoding times in minutes, with lower numbers meaning better performance. 
The DVD Shrink test is quite important as DVD Shrink is quite possibly one of the easiest tools to rip a DVD.  The easier a tool is to use, the more likely that it's going to be used, and arguably the more important performance using it happens to be.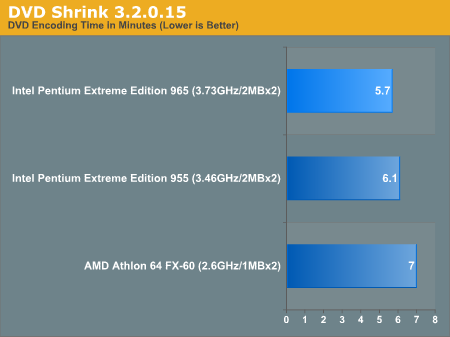 The FX-60 couldn't keep up with the old EE 955; the new 965 simply extends Intel's lead even further.
Moving on, we have our Windows Media Encoder 9 test, which uses the advanced profile settings for video encoding.  We left all settings at their defaults and just proceeded with a MPEG-2 to WMV-HD conversion.  The values reported are in frames per second, with higher numbers being better.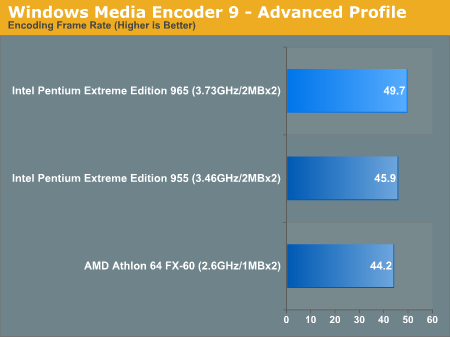 The 965 continues to dominate in Windows Media Encoder 9, making the Extreme Edition the choice for anyone who does a lot of video encoding.
Next up, we have Quicktime Pro 7.0.3 and we perform a MPEG-2 to H.264 encoding task.  We've changed our test a bit to make it more streamlined. The export settings are left on their Export to Quicktime Movie defaults (which happens to be a H.264 export). We simply changed the audio encoder to use Apple's AAC codec instead. We report the transcoding time in minutes, with lower values being better.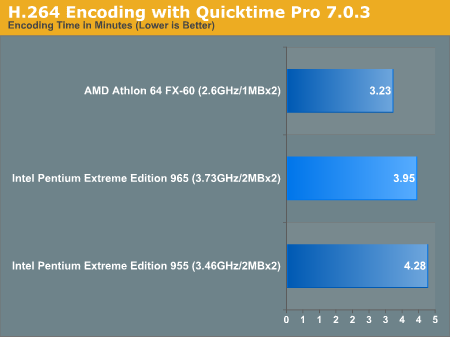 As we've seen in the past, Apple's Quicktime 7 Pro for Windows doesn't appear to be very well suited for Intel's architecture. Our sources tell us that this will change over time, but it may end up being too little, too late because by then, the Pentium 4 will be long gone and forgotten. The EE 965 does a better job of keeping up than its predecessor, but the FX-60 still takes the crown in this test.
Finally, we have a MP3 encoding test using iTunes 6.0.1.3.  For this test, we simply took a 304MB wav file and converted it to a 192kbps MP3 file, measuring the encode time in seconds.  The only iTunes option that we changed was to prevent the playback of the song while encoding.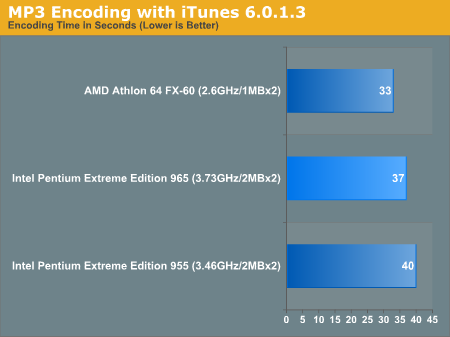 And with MP3 encoding, the FX-60 continues to hang onto its lead.