nVidia 7600GT
nVidia also announced lower priced updates in the 7xxx series. The 7600GT main-stream/performance family will be announced with the 7900GTX and GT. In a few weeks the 7300GT value family will be added. Every nVidia partner we spoke with will be showing one of these cards - even those who do not market the top-of-the-line 7900GTX.
The entire 7xxx lineup looks very interested after the shrinks and reworks.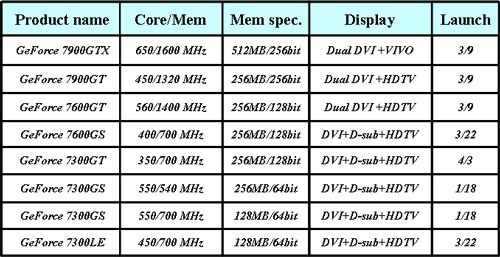 Two of the more interesting mainstream battles shaping up are between the 7600GT and the newly announced X1800GTO at the $230-250 price point and the 7300GT/GS and the ATI X1300/X1600XT/PRO at the $100-$175 price point. The new price reductions from ATI and the introduction of the X1800GTO make these some very interesting graphics card battles.