New AM2 Cage
With the two 940 sockets so similar you would reasonably expect existing heatsink/fans to work on the new AM2.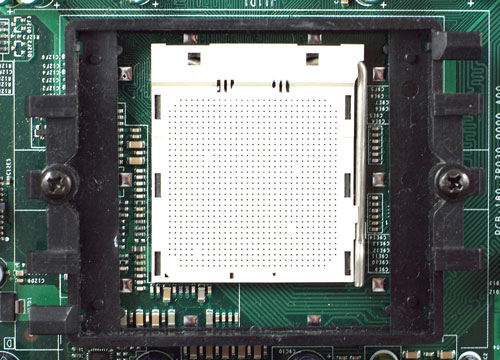 After all AMD has maintained the same "cage" design though 754, 940, and 939 sockets. The same heatsink/fan can be mounted on any of these sockets without concern about compatibility.. Those with large and exotic cooling solutions have other concerns about whether motherboard layout may block their cooling device, but overall there has been one HSF design through all the Athlon 64 socket designs.
If you look at the designs side-by-side you can see the differences more clearly.
Socket 939/940/754 HSF Cage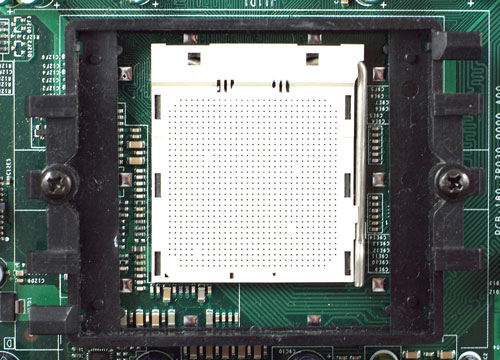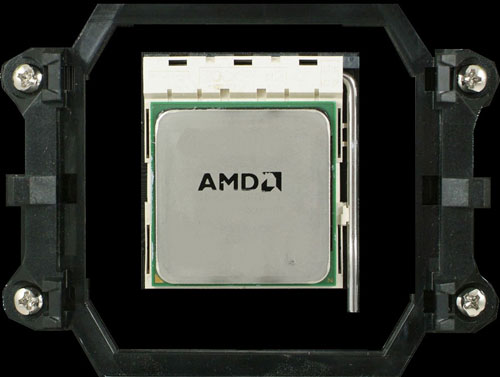 AM2 HSF Cage
While the spacing width of the center mounting lug is the same on both the current cage and the AM2 version, that's about all that is the same. Most current basic designs connect with the center lug and have push down cam locks that lock onto the extra lug near the cage corners. There are no extra lugs on the new AM2 cage, so designs that require cam locking won't work. Neither will most of the "step-up" 3 lug mounting clips. AM2 only has one lug per side, and the 3-lug clip is normally intruding on the new screw locations (just a little too wide) to mount on the new AM2 cage.
In addition the current high-end designs, which replace the existing cage with a new mounting system just simply won't work. The current Athlon 64 design uses one screw on each side in the center of the mounting lug. The new AM2 design uses four corner mounted screws - more secure but not useful for mounting current 2 screw mounting schemes.
Current Athlon 64 heatsinks that use a single lug for mounting and no cam for locking will likely work on the new AM2 cage. Recently shipped AMD retail heatsinks have a single lug connection and a lever lock without the locking cam. Those should work fine on the new AM2. However, not a single third party HSF in our lab - the kinds our readers most likley use - would mount properly on the new AM2 cage.