"An idea, to be suggestive, must come to the individual with the force of revelation."
This quote from the American philosopher and pragmatist William James led us to try a few different testing methodologies for today's article. We are reviewing the Asus P5WDG2-WS motherboard along with comparison scores to the Gigabyte GA-G1
975X
. While the two boards are targeted for completely different audiences, both utilize Intel's excellent 975X chipset. Asus will be releasing the P5WD2-E for the enthusiast market in the near future and we will directly compare it to the Gigabyte GA-G1
975X
at that time.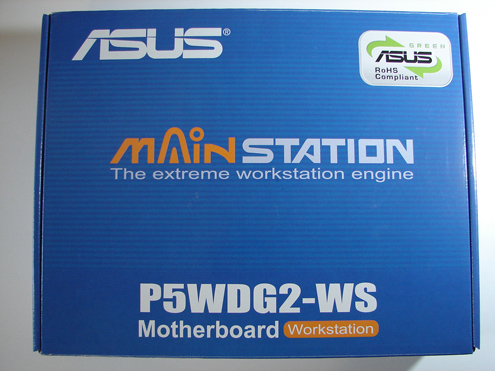 Asus's new series of Main Station motherboards are designed specifically for high-end computer and workstation users. With the release of this series, Asus is concentrating on providing additional storage options, improved cooling performance, and scalability for the business user. The board will fully support the soon to be released Pentium XE dual-core CPU, which offers two independent 2MB L2 cache, 1066MHz front-side-bus, Hyper-Threading Technology, and Virtualization Technology for improved multi-thread operations.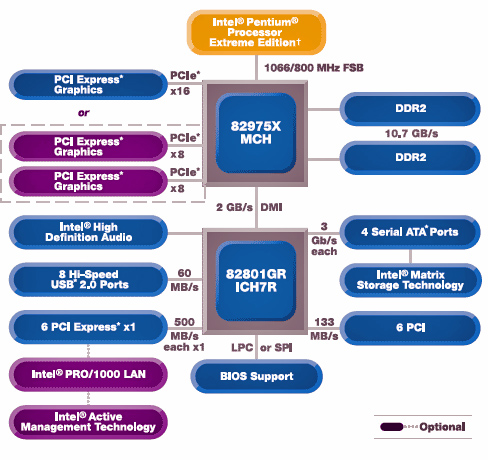 The chart above lists the standard feature set available to manufacturers using the Intel 82975X chipset. The Intel 975X Express Chipset enables full support for multiple 2x8 PCI Express graphics cards, Intel Memory Pipeline Technology (MPT), Intel Flex Memory Technology , 8GB memory addressability, and ECC memory support.
The Intel MPT has been enhanced to offer improved pipelining to enable a higher utilization of each memory channel, resulting in better performance through increased transfers between the processor and system memory. Intel Flex Memory Technology allows different memory sizes to be populated and still remain in dual-channel mode.
The new architecture also supports both asynchronous and isochronous data traffic, with dedicated internal pipelines and specialized arbitration. In addition, the 975X chipset has improved electricals with optimized ball-out for better latency.
The 975X chipset offers full support for graphic based PCI Express x16 lanes that can be configured as two PCI Express x8 slots for multi-view or GPU capability. The 975X chipset fully supports ATI CrossFire technology. Further technical details of the 975X chipset can be download in PDF format at
Intel's website.
Asus chose to augment this feature set with additional SATA II capabilities via the Marvell 88SE6141 chipset, PCI-X capabilities via the Intel 6702PXH chipset, and Firewire 1394a support via the TI TSB43AB22 chipset.
Let's see how this board compares to others.