NVIDIA launched their integrated graphics chipsets for Athlon 64 about two months ago. The NVIDIA 61x0 family consists of three combinations of Northbridge and Southbridge geared at different market segments.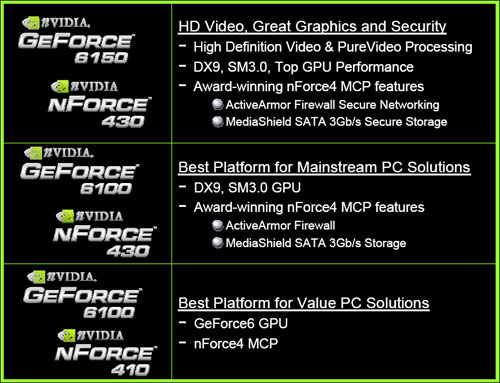 Base systems with the GeForce 6100/nForce410 quickly found their way to market, but it has taken nearly two months since the NVIDIA launch for the top-of-the-line GeForce 6150/nForce430 to appear. Asus, the largest of the Tier 1 board manufacturers, is often first to market with new chipsets. That is the case today as we take a first look at the performance of the Asus A8N-VM CSM, which features the 6150/430 integrated graphics chipset.
Specifications:
NVIDIA GeForce 6150
NVIDIA nForce 430
NVIDIA GeForce 6100
NVIDIA nForce 430
NVIDIA GeForce 6100
NVIDIA nForce 410
CPU
Athlon 64 or Sempron
Athlon 64 or Sempron
Athlon 64 or Sempron
PureVideo (High Definition)
Yes
Yes
Yes
DirectX® 9.0 Shader Model 3.0 Support
Yes
Yes
Yes
TV Encoder
Yes
No
No
TMDS/DVI
Yes
No
No
Graphics Clock
475 MHz
425 MHz
425 MHz
PCI-Express
1x16
2x1
1x16
1x1
1x16
1x1
MPEG-2/WMV9 Playback
HD(1080p/1080i)
SD
SD
Video Scaling
High Quality(5x4)
Basic (2x2)
Basic (2x2)
SATA/PATA drives
4/4
4/4
2/4
SATA speed
3Gb/s
3Gb/s
3Gb/s
RAID
0,1,0+1,5
0,1,0+1,5
0,1
NVIDIA MediaShield
Yes
Yes
Yes
NVIDIA ActiveArmorTM Firewall
Yes
Yes
-
Ethernet
10/100/1000
10/100/1000
10/100
USB ports
8
8
8
NVIDIA nTuneTM Utility
Yes
Yes
Yes
As you can see, there are several features that are only available with this chipset combination. The 6150 runs at a 475MHz Graphics Clock instead of 425 and features a TV encoder, High Quality Video Scaling, and dual video (DVI-D and RGB) outputs. The nForce 430 adds 2 more SATA2 ports (4 total), support for Raid 5, NVIDIA Active Armor Firewall support, and the hooks for 1GB Ethernet. These additional features make the 6150/430 a much more attractive solution for Multimedia applications or as the core of a Home Theater PC (HTPC) box.