Basic Features: Asus A8N-VM CSM
With the feature list for the GeForce 6150/nForce 430 chipset, you will get a pretty good idea of the features and capabilities of the Asus A8N-VM CSM. The only significant addition to the feature set is the welcomed addition of Firewire ports with the VIA 6307 chipset.
 Asus A8N-VM CSM
CPU Interface
Socket 939 Athlon 64
Supports AMD Cool'n'Quiet
Form Factor
Micro ATX
Chipset
NVIDIA GeForce6150 Northbridge - NVIDIA nForce 430 MCP Southbridge
Integrated Graphics
NVIDIA 6150 GPU
Dual VGA Output: DVI-D and RGB
Maximum Resolution 1920x1440
Note: DVI-D only supports digital output and cannot be converted to output RGB signal to a CRT display
Bus Speeds
200 to 240MHz in 1MHz Increments
PCIe Speeds
Fixed
PCI
Fixed at 33
Expansion Slots
1 x16 PCIe
1 x1 PCIe
2 PCI
OnBoard GPU
Auto, Always Enable
Frame Buffer (UMA)
16M, 32M, 64M, 128M, Disabled (64M Default)
Core Voltage
Not Adjustable
CPU Clock Multiplier
Not Adjustable
HyperTransport Frequency
1000MHz (1GHz)
Supports AMD Cool'n'Quiet

HyperTransport Multiplier
Auto, 1X, 2X, 3X, 4X, 5X
DRAM Voltage
Not Adjustable
Memory Slots
Four 184-pin DDR DIMM Slots
Dual-Channel Configuration ECC/non ECC
Regular Unbuffered Memory to 4GB Total
Onboard SATA/RAID
2 SATA II Drives by nForce 410 (RAID 0, 1, JBOD)
Onboard IDE/IDE RAID
Two Standard ATA133/100/66 (4 drives)
Onboard USB 2.0/IEEE-1394
8 USB 2.0 ports supported by nF430
2 IEEE 1394 by VIA 6307
Onboard LAN
Gigabit Ethernet by Marvell 88E1111 PHY
Onboard Audio
High Definition ADI Soundmax AD1986A
6-channel, auto jack sensing, SPDIF out
BIOS
AMI 0506 (11/18/2005)
This is also the first NVIDIA chipset board that we have tested to support High Definition Azalia audio. Asus has used the same ADI AD1986A chipset used on the recently reviewed Asus A8R-MVP motherboard. However, the SPDIF connection is only provided by an optional bracket. TV out is another feature that requires an optional bracket. Since HTPC/Multimedia buyers will be looking for these features, the optional brackets will be a huge disappointment for many buyers.
Asus does a great job with placement of power connectors. Even on this micro ATX board, the 24-pin ATX and 4-pin 12V are both near board edges where they work best. Both single and dual-core Socket 939 AMD processors work well on the Asus.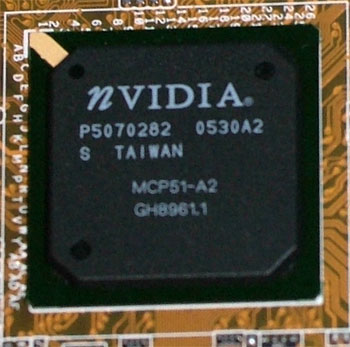 The nForce 430 Southbridge did not have any cooling, but it does get quite warm during operation. It is interesting that NVIDIA has another name for the 430 - the MCP51. As we typically see with recent Asus designs, cooling is completely passive with no active fans.