All three of the notebooks share the same general port layout, which ends up being pretty decent although nothing particularly special.
At the front of the notebooks, you have: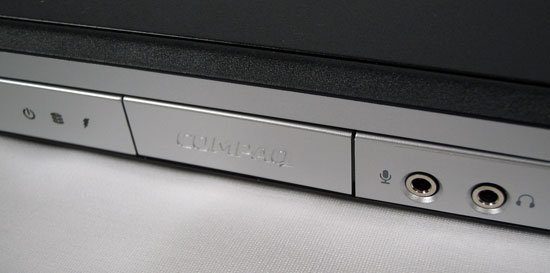 - Microphone jack
- Headphone jack
On the right side of the notebooks:

- USB 2.0 port
- S-Video output
Moving onto the left side of the notebooks:

- VGA output
- Ethernet jack
- Modem jack
- USB 2.0 port
- PC Card slot
And finally at the rear, you have the power connector for the AC adapter:

Although all of the notebooks in this roundup felt relatively similar in terms of build quality, the Compaq notebooks offered the most rattles right out of the box.  The culprit appears to be the hinges used to attach the display to the base of the notebook, which had far more play in them on these Compaq notebooks than on the Gateway and definitely more than on the Dell.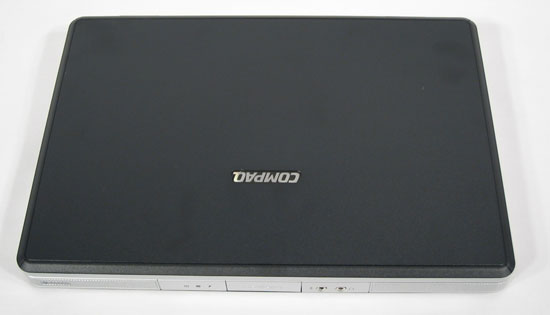 The top and bottom of the Presario notebooks is a matte black plastic, while the inside and outer edges are silver.  While the black/silver color scheme can work, Compaq goes ahead and complicates it with a number of other colors or shades of silver.  For starters, there are two shades of silver on the keyboard area itself.  Then, you have the keyboard, which is this grey color that isn't aesthetically pleasing at all.  Then there are the amber LEDs that Compaq uses everywhere; Compaq should know by now that amber LEDs aren't cool anymore. Even their wireless NIC LED is blue. Why couldn't the rest of the machine follow that trend?  So, what you end up having is a notebook that is black, silver, "silver-er", grey, amber and neon blue.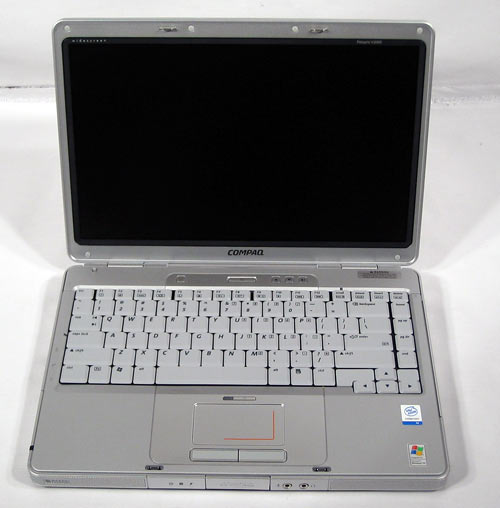 The Compaq V2000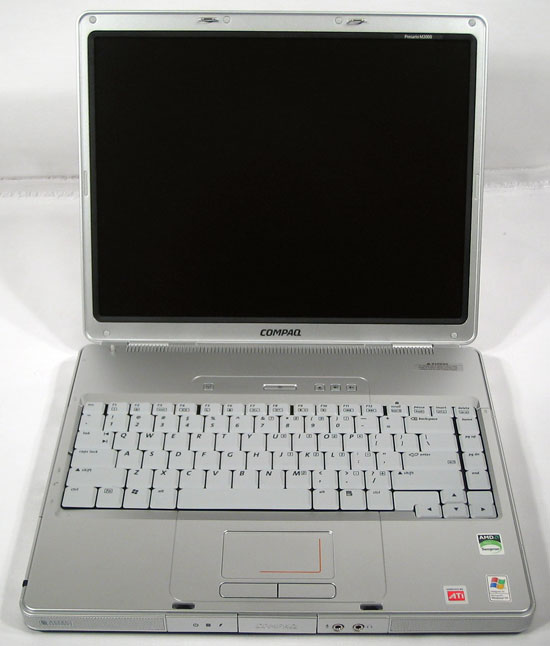 The Compaq M2000
The one design decision that Compaq did make good on was the styling of the exterior of the notebook.  The rounded corners along the edges of the notebook are very well done, and the profile of the unit is quite modern.  With the lid closed, the notebook has a very nice black/silver look, which is almost slimming - until you get an idea of how big these things are.  They aren't of a desktop replacement size, but it's tough to actually keep the word "slimming" in the last sentence without cringing.