Compaq Presario V2000, V2000Z and M2000Z
Although both Dell and Gateway offer good configuration options, only Compaq gives you the freedom of going AMD or Intel with their $600 notebooks.  The three notebooks that we have here today are the Compaq Presario V2000, V2000Z and M2000Z.  The two notebooks with a 'Z' at the end of their names use AMD's Sempron 2800+ processor, while the regular V2000 is based on Intel's Celeron M 360 running at 1.4GHz.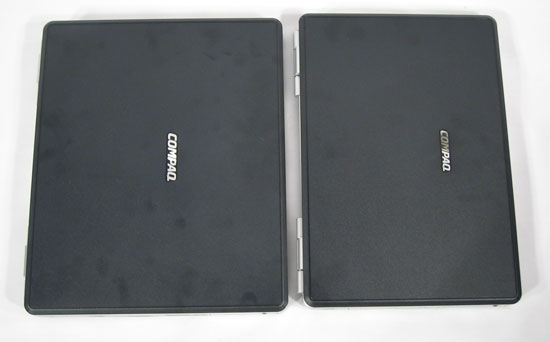 Compaq M2000Z (left) vs. Compaq V2000 series (right)
The V2000 uses Intel's 915GM chipset and its accompanying integrated graphics.  The two AMD based notebooks, however, use ATI's RS480 chipset, and its accompanying ATI based integrated graphics solution.  But that's, of course, all on the inside; externally, they all look similar, with the exception that the V series offer widescreen displays while the M series are strictly 4:3 displays.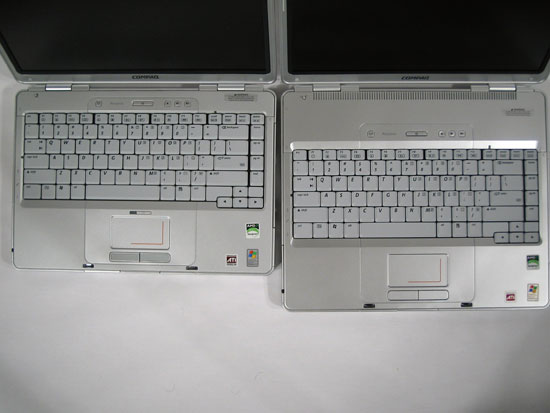 The 4:3 display of the M series gives it a larger footprint (right)


Compaq M series (left) vs. Compaq V series (right)
Since Compaq keeps the general features pretty similar between all of the notebooks, regardless of CPU manufacturer, we'll be talking about all three notebooks together, and simply pointing out where they differ as we go along. 
Compaq Presario
V2000
V2000Z
M2000Z
CPU
Intel Celeron M 360
(1.4GHz/1MB L2/400MHz FSB)
AMD Sempron 2800+
(1.6GHz/256KB L2)
Chipset
Intel 915GM
ATI Radeon Xpress 200M (RS480)
Memory
256MB DDR333 (1 DIMM)
GPU
Integrated Intel Extreme Graphics
Integrated Radeon Xpress 200M Graphics
Display
14.1" WXGA (1280 x 768)
15" XGA (1024 x 768)
HDD
40GB Toshiba MK4025GAS
40GB Hitachi HTS541040G9AT00
Optical Storage
24X CD-RW/DVD-ROM Drive
Wireless
Intel PRO/Wireless 2200BG
Broadcom 802.11b/g
Ethernet
Realtek RTL8139/810x 10/100
Modem
Internal Soft 56K
Audio
Conexant Integrated AC'97
Ports
Headphone, microphone, PC Card slot, 2 x USB 2.0, Ethernet, Modem, VGA out, S-Video out
Mouse
Trackpad
Size (L x W x H)
13.15" x 9.1" x 1.29" (min) / 1.53" (max)
13.15" x 10.8" x 1.41" (min) / 1.78" (max)
Weight
5.21 lbs
5.38 lbs
6.55 lbs
Battery
6-Cell Lithium Ion
OS and Other Software
Windows XP Home SP2
Price as Configured
$604.00
$604.00
$604.00
Warranty
1 year