Memory Size Scaling
We were very interested in how the additional RAM affected game performance, so we underclocked our 7800 GTX 512 to 430/1.2 (core/mem) in order to see what (if any) difference we would find between the original 7800 GTX and the new model from framebuffer size alone. We will look at 2048x1536 both with and without AA as this is the resolution where any difference was most pronounced.
As we can see from the tests, the added RAM had no real impact on performance in any game (and a slightly negative impact in D3 and Q4).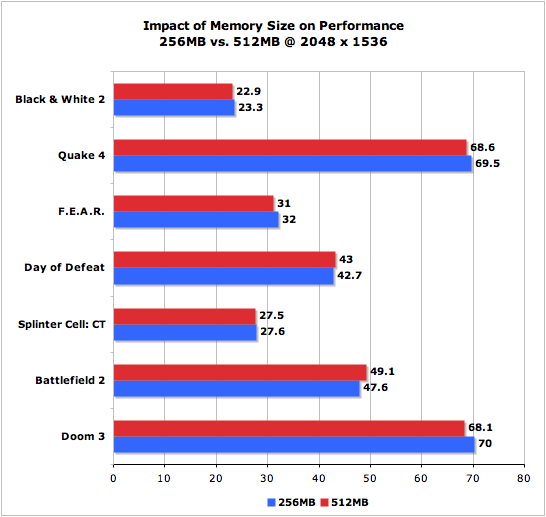 Looking at the numbers after we enable AA, there are only two games that see any slight benefit from the extra RAM alone: Black and White 2 and Day of Defeat: Source. Battlefield 2 sees a tiny boost, but this is only evident at this extreme resolution. Clearly the majority of the benefit the 7800 GTX 512 has is from core and memory clock speed.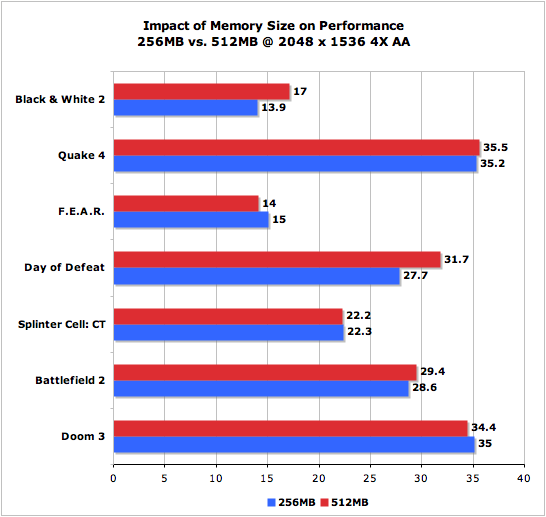 We do want to mention that there could be slightly more benefit from the added RAM as we have still not been able to confirm that dropping the clock speeds of the 7800 GTX 512 part results in the same clock speeds all round as the 7800 GTX. If you recall from earlier articles, the 7800 GTX has multiple clocks which aren't always all adjusted when over/under clocking. It's possible that dropping the clock speed to 430 pushed some of the internal clocks lower than they are in the original 7800 GTX. This would have a minimal impact, but an impact nonetheless.