DFI
DFI's LanParty series reigns as one of the most respectable and recognizable motherboard series out there. Of course, if you're DFI, already having the undisputed overclocking Socket 939 motherboard just isn't enough. Check out DFI's new ultra-enthusiast board, the LanParty nF4 SLI-DR Expert.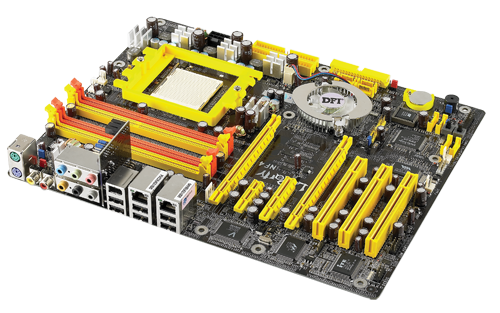 Although the premise behind the LanParty nF4 SLI Expert is the same as the original nF4 SLI, DFI has put some considerable work on filling in the gaps. For starters, the SLI toggle paddle is gone, but DFI isn't using an expensive C51 bridge. Instead, ICs automatically configure the motherboard for SLI mode if two cards are inserted. The PEG slots are also spaced out slightly further as well.
The power management has been completely revamped as well. The old 3-phase PWM has been replaced with a 4-phase parallel PWM instead. The four pin ATX12V connection is also replaced with a backwards compatible 8-pin EPS12V - you can still use an ATX 1.2 AUX input if you don't have the 8-pin interconnect. The tighter phase control also allows for much smaller DRAM voltage adjustment. Rather than flipping between 3.5V and 3.6V, you'll now be able to tweak on increments of 0.025V.
Our bot picked up the Expert
on pre order already
. Expect several other merchants to have the board within the next few weeks as well.
OCZ
OCZ semi-quietly unveiled their new heatspreader design over the last couple weeks on their GX XTC modules. The new honeycomb design is expected to dissipate better than traditional designs according to OCZ documentation. GX XTC modules are already on sale at some vendors and will likely start showing up en masse by the end of the week.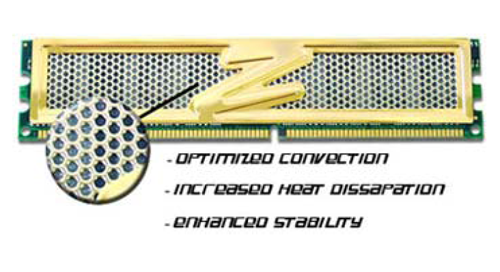 OCZ's phase cooler is starting to see the light of day as well. Don't be surprised if we see a phase cooler launch sometime around early January.