"Not words, old man," said Mr. Dark. "Not words in books or words you say but real thoughts, real actions, quick thought, quick action, win the day."
One of the more poignant quotes from Ray Bradbury's classic novel, "Something Wicked This Way Comes", fully explains the reasoning behind Gigabyte's desire to design, implement, and produce technologically innovative products quickly into a market saturated with cookie cutter designs and ideas.
It is this quick thought process along with quick action that has allowed Gigabyte to introduce several innovative products over the past year that include everything from the GA-8I945P dual graphics capable motherboard to the impressive single slot SLI based GV-3D1-68GT video card. While the true commercial success of these currently niche products are open for debate, the desire of the company to introduce these types of products is not.
Today, we will review the features, performance, and wickedly unique capabilities of the Gigabyte GA-8N SLI Quad Royal motherboard.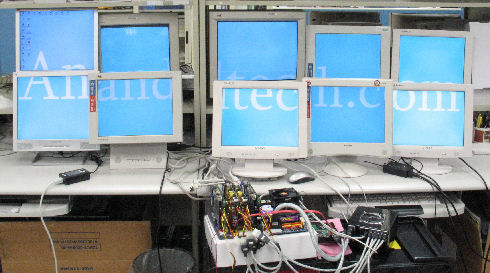 Click to Enlarge
This motherboard's primary design feature is quad graphics capability with the ability to drive 10 displays by utilizing two Gigabyte GV-3D1-68GT revision 2 cards, which support up to four displays per card, and then including an additional NVIDIA based PCI Express video card. You can also install four PCI Express video cards and one PCI based video card in order to reach the maximum ten display configuration, but this defeats the purpose of utilizing the latest video card technology in a performance oriented board. The above image was supplied by Gigabyte and is meant to show the 10 monitor capability. We were unable to test 10 monitors due to the lack of the revision 2 Gigabyte GV-3D1-68GT video card.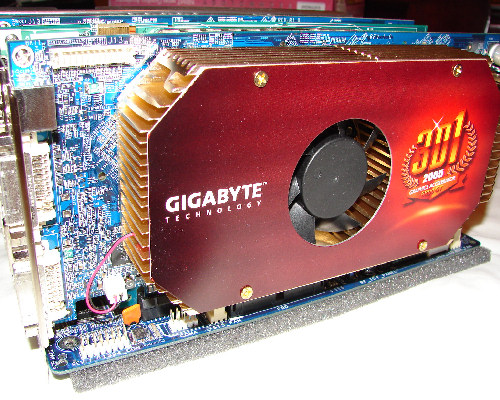 Of course, there are a myriad of combinations up to the maximum 10 displays that are available with this board. ATI graphic cards are fully supported, although they were not tested for this article. We fully tested several display configurations without an issue utilizing two 6600GT, two 7800GTX, and one Gigabyte GV-3D1-68GT card for the various display combinations that included up to eight displays. In fact, we were able to overclock the system to its maximum fsb limit with two 6600GT and two 7800GTX cards installed on the board.
How is all of this possible? The basic design feature stems from NVIDIA's decision to utilize a HyperTransport system to link the north and south bridge components of the nForce 4 SLI Intel Edition chipset. Gigabyte took this basic layout and engineered a solution to allow the removal of the Intel Edition south bridge (MCP) and insertion of the nForce 4 SLI chipset from their AMD product line. The AMD nForce 4 SLI component is a single-chip design that includes the core logic, networking, USB, and storage option functionality. By utilizing the latest core logic revisions of the nForce 4 SLI Intel (C19) and AMD (CK804) chipsets, this allowed Gigabyte to produce a fully featured board with four x8 PCI Express slots with the option to use two of these slots in full x16 mode. In this configuration, the other two x16 slots will behave as x1 capable slots. Each of the slots can be utilized by various PCI Express peripherals other than video cards.
The ability to have two x16 slots for video operation and the availability of the Gigabyte GV-3D1-68GT single slot SLI video card begs the question if this board is capable of Quad GPU SLI operation. The revision 2 GV-3D1-68GT video cards have the necessary SLI connectors and the GA-8N board has been designed for this purpose. However, Gigabyte's forward-thinking on this subject matter is tempered or more than likely dosed with a bucket of cold water by NVIDIA's current decision not to support quad GPU operations in their drivers. However, I have to commend Gigabyte's current design and thought process on single slot SLI capability, as the eventual migration to quad based SLI capable systems is inevitable just as multiple core designs are now taking over in the processor arena.
Let's see what else this board is capable of now and if it can win the day.