DVD+R Media
We have a total of 4 types of DVD+R media tested with the DVR-110D.
MCC 004
Our first test was disappointing, and a bit of a tease as well. We have seen Pioneer's performance in the past and it has generally not let us down. The failed write of MCC 004 media, however, makes us wonder what the DVR-110D really has to offer us.
Take a look at the drive's theoretical write performance compared to the others.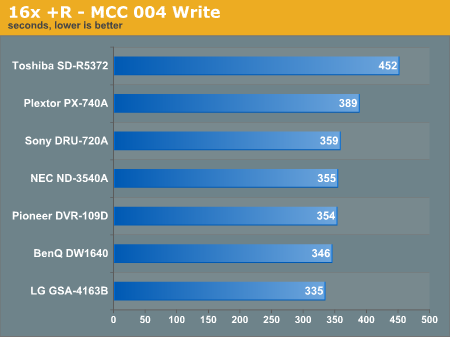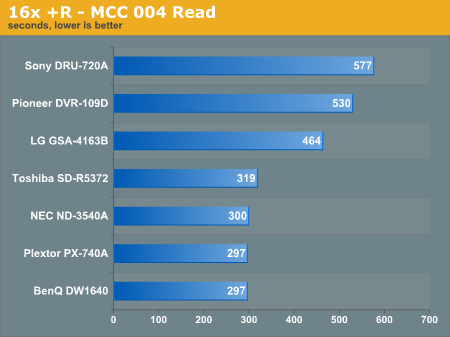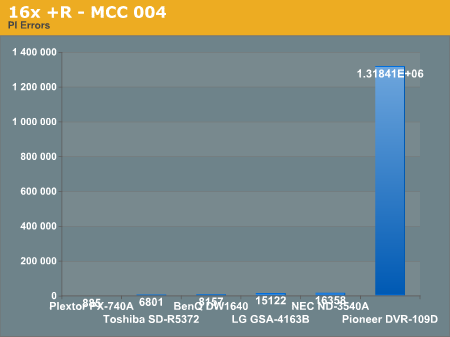 Plextools reports 27,730 PI errors, but all are spread over the course of the disk in the first 3GBs of the media, which is definitely not enough to get in the way of a successful read. Towards the end, though, we see a greater concentration of PI errors, but even this is not much to render the disk unreadable.
Ritek R04
Though the DVR-110D completed the write process on the Ritek 16x media, it only wrote at 4x throughout the entire burn, taking 14:53 minutes to complete using the CLV method and an average speed of 3.96x.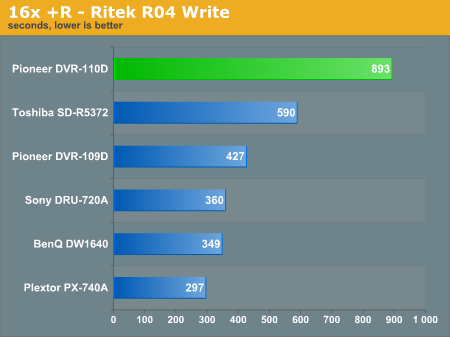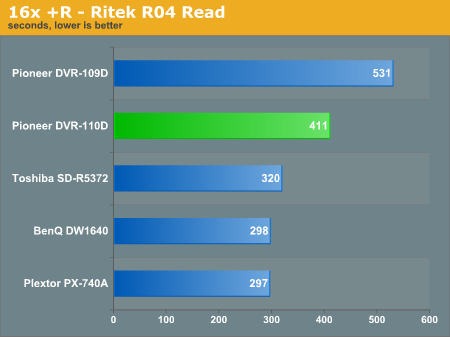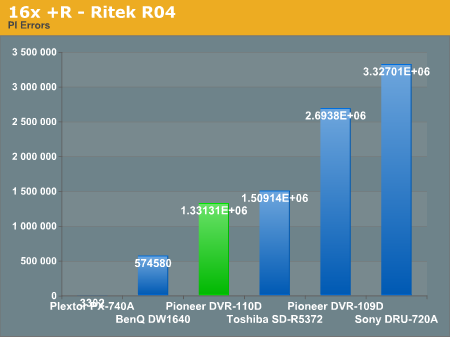 Reading back the R04 media, we see that the write was successful, but the DVR-110D struggled to read the media after the 3.5GB mark. It took the DVR-110D 6:51 minutes to read this media. PlexTools also shows a high number of PI errors, increasing as the read continues and showing a peak number of PI errors around the 3.5GB mark. This gives us some idea of why the read back in the DVR-110D suffered around the 3.5GB area of the media.
VDSPMSAB 001
Our low quality media kept the drive working as it never hit above 2.4x write speeds (average of 2.37x) throughout the write process. We should give the DVR-110D credit for at least completing the burn successfully.
The read back also showed a successful write, though the speed of the drive dropped from about 12.5x to just over 5x, just past the 4.2GB mark.
The screenshots of Nero's CD-DVD Speed and Plextor's Plextools can be downloaded
here
.