DVD-R Media
And now, some DVD-R media…
AN31
The DVR-110D performed better on the AN31 media, writing at the full 4x speeds at which the media was rated. We did not expect the DVR-110D to exceed this speed due to the lower quality of the media. The complete write took a few seconds over 15 minutes at 4x speeds, while reading back the media took 6 minutes and 37 in change.
MCC 03RG20
"Here we go, back to some high quality Verbatim media that took a successful write and helped the drive produce a successful read of the disc, finishing off at 16x write speeds." That's what we said in our look at the PX-740A, but we can't say the same for the DVR-110D. For some reason, this drive has issues with media between the 3.5-4GB range. The write just gave up around 3.8GB and we had to stop it manually. Of course, we tried another disc, but it gave us the same results.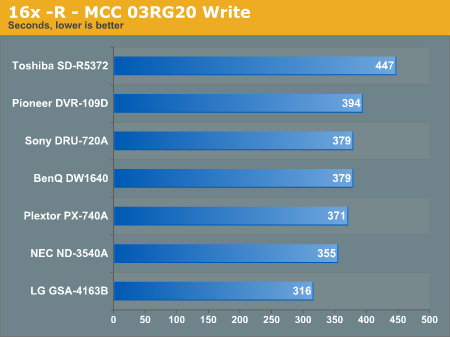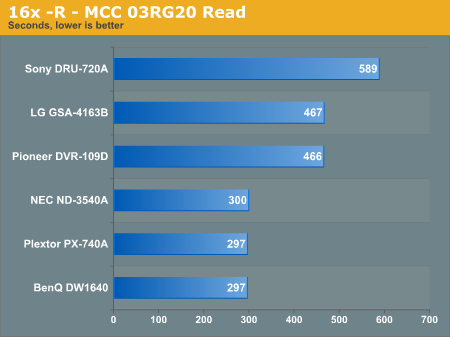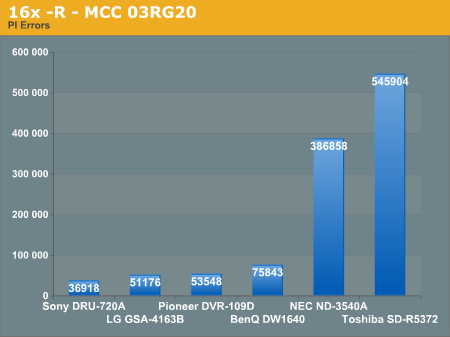 For giggles, we read back this disc on the drive that showed a flawless read up to the point that it had given up the read. During our PlexTools scan, we noticed a huge leap in PI errors towards the "end" of the write. You can see the screenshot by downloading the package at the link below.
TYG03
By reader demand, we are introducing Taiyo Yuden media into our testing, beginning with DVD-R media. Take a look at how the DVR-110D performed in it.
The screenshots of Nero's CD-DVD Speed and Plextor's Plextools can be downloaded
here
.