ThermalRock Eclipse
As a smaller division of ThermalTake, ThermalRock's aluminum Eclipse pays many design traits to other ThermalTake cases. Breaking off from tradition though, the front of this one is primarily taken over by a CD holder, which includes a blank red CD-R. No, it is not an actual drive or reader of any sort, unfortunately; it simply holds a CD for storage and looks.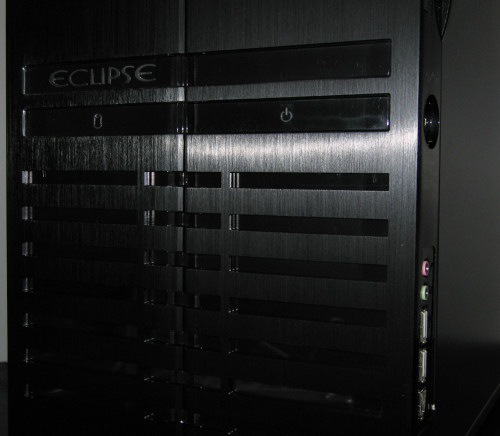 Besides the plastic-embossed "ECLIPSE" insignia, there are also strips that will light up showing that the case has power and there is hard drive activity above the vents as well. Turning the case to the side slightly gives us a better look at the port cluster, which may or may not be the best placement for one's particular setup.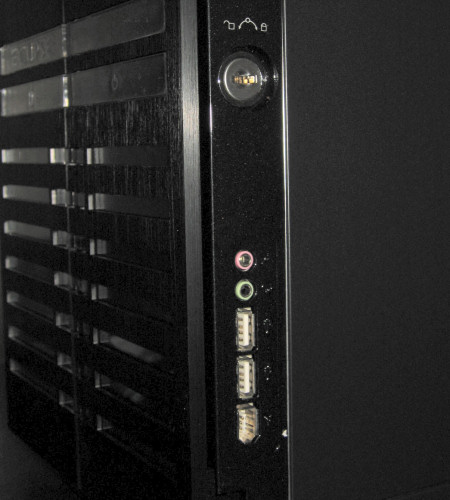 We really wish that manufacturers would space the ports out a bit more on the clusters like this, since more and more devices are coming out that have little to no cable at all, making plugging in more than one peripheral difficult or even impossible. Moving on, there is also the option of locking the entire front bezel here on the side. When unlocked, the bezel can be swung open to allow unrestricted access to the removable dust filter.
Turning the case 180 degrees, we can see how the Eclipse looks from the rear, and are happily surprised to find massive thumbscrews in typical ThermalTake/ThermalRock fashion.