The MSI MEG Z590 Ace: A Quick Recap
The MSI MEG Z590 Ace is a premium ATX motherboard and sits just below its flagship MEG Z590 Godlike model, which is currently one of the best boards on the Z590 chipset. Looking at the countless number of features the Ace has up its sleeve, it has two full-length PCIe 4.0 slots operating at x16 and x8/x8, a third full-length slot electronically locked down to PCIe 3.0 x4, and two PCIe 3.0 x1 slots. The MSI MEG Z590 Ace also has four memory slots located in the top right-hand corner with support for up to DDR4-5600, which is one of the highest QVL'ed boards on Z590 and can accommodate up to 128 GB in terms of capacity.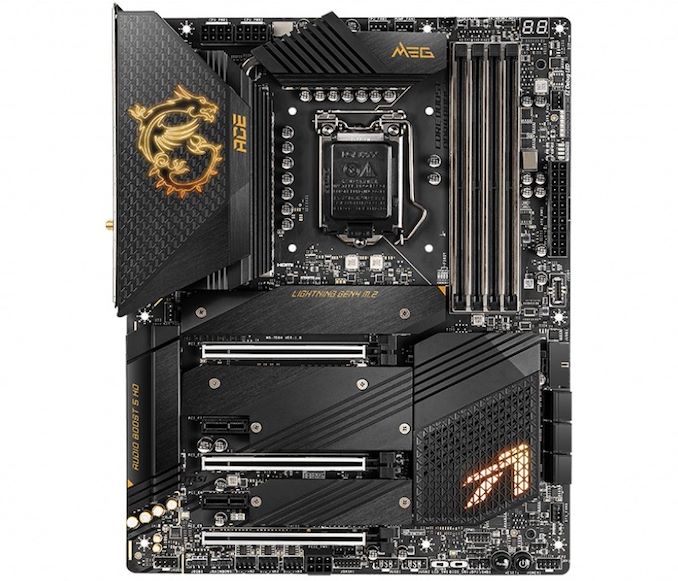 Focusing on storage, the Ace has four PCIe M.2 ports, including one with support for PCIe 4.0 x4, one with support for PCIe 3.0 x4 M.2 drives, and two with support for both PCIe 3.0 x4 and SATA M.2 drives. MSI also includes six SATA ports, including support for RAID 0, 1, 5, and 10 arrays. Regarding onboard audio, the Ace is using Realtek's latest ALC4082 HD audio codec and is assisted by an ESS Sabre 9018Q2C DAC. Looking at the premium controller set, the Ace uses an Intel Maple Ridge Thunderbolt 4 controller, which powers two Type-C and two mini-DisplayPort video inputs on the rear panel. In terms of networking, there is an Intel AX210 Wi-Fi 6E CNVi and an Intel I225-V 2.5 GbE port.
MSI MEG Z590 Ace Key Overclocking Variables
Some of the most notable elements of the Ace when it comes to features helpful to overclocks are as follows:
Premium 18-phase power delivery operating at 8+2 (doubled design)
2 x 8-pin 12 V ATX CPU power inputs + 1 x 6-pin PCIe power input
Solid power delivery heatsink design
Support for DDR4-5600 out of the box (one of the best on Z590)
Looking specifically at the power delivery on the MSI MEG Z590 Ace, the 18-phase design uses an Intersil ISL69269 PWM controller operating at 8+2. The CPU section uses sixteen Intersil ISL99390 90 A premium power stages, which is doubled up with eight Intersil ISL6617A doublers. For the CPU section, MSI is using two Renesas RAA220075 75 A power stages.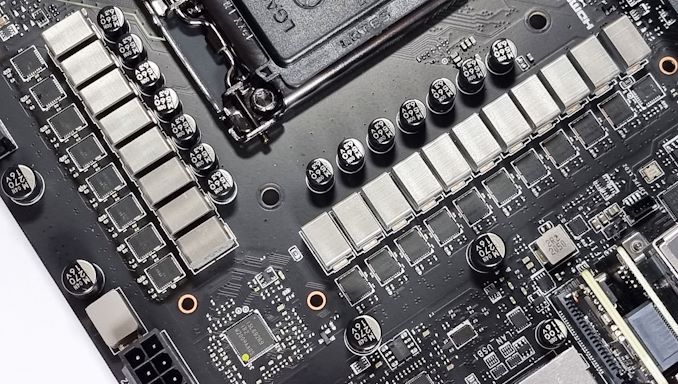 The 18-phase power delivery on the MSI MEG Z590 Ace (operating at 8+2)
Keeping the large 18-phase power delivery cool is a pair of heatsinks interconnected by a single heat pipe. The heatsinks themselves have deep channeled grooves designed to direct and catch adequate airflow within a chassis effectively. The main area cooling the bulk of the CPU section also benefits by being attached to a large metal rear panel cover, which adds a large surface area to dissipate heat.
MSI MEG Z590 Ace Firmware for Overclocking: OC
The MEG Z590 Ace uses MSI's commonly used Click BIOS 5 firmware, so the overall look and design are consistent across all of its recent (circa 3-years) models. Like with all the models we have on test for this article, the MSI Click BIOS 5 also has an 'EZ' mode and an 'Advanced' mode which users can cycle between by pressing the F7 key. Regarding the GUI, the Ace firmware has a black background, grey paneling for the sub-menus, and white text and red accents.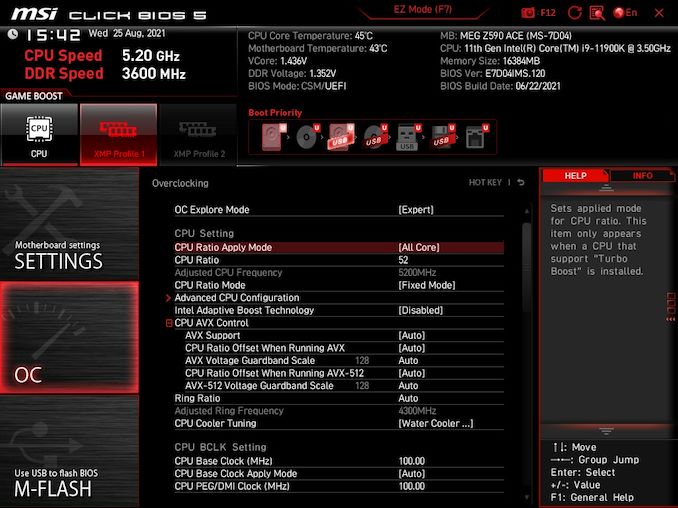 All of MSI's overclocking options can be found within the OC menu within the Advanced mode and has plenty of options for users to play with. To simply overclock the CPU, users can adjust the CPU ratio to the defined ratio in increments of 100 MHz, e,g 51 = 5.1 GHz, and adjust the CPU VCore. Under the Advanced CPU options are a whole host of settings, including a mode for Extreme OC with sub-ambient cooling such as liquid nitrogen (LN2) and dry ice (DICE), as well as Intel's Turbo Boost settings and other power-saving (or power increasing) settings to flick between. For overclocking memory, users can enable memory with X.M.P 2.0 profiles at the click of a button and fine-tune latencies and push frequency/voltage. MSI also includes a whole host of predefined memory profiles for users with high bin memory kits, including Samsung, Hynix, and Micron.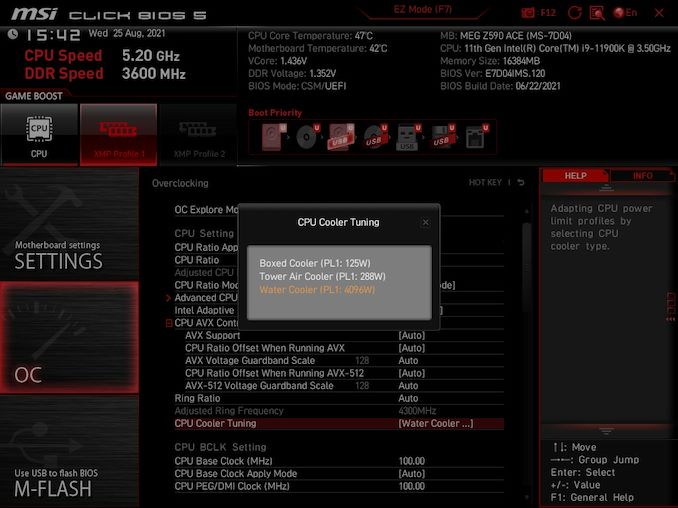 As well as providing lots of Intel Thermal Velocity Boost (TVB) and Intel Adaptive Boost Technology (ABT) options for users to tweak, but it has a handy CPU cooler section menu. Within this menu, users can select the type of cooling for less or more aggressive power limit settings, with the water cooler unlocking all the PL1 and PL2 power limits to 4096 W for maximum performance.
The MSI Click BIOS 5 firmware is a testament to keeping things consistent throughout all of its desktop options, whether that be the AMD or Intel models. MSI keeps all of its overclocking options in one easy-to-navigate menu, with a long list and plenty of sub-menus for users to explore. Most importantly of all, overclocking on MSI's Z590 models is easy as can be due to the CPU cooler selection menu, which can set the power profiles automatically depending on how good the cooling is.
Getting a baseline on stability and maximum all-core frequencies using the MSI MEG Z590 Ace with all four Core i9-11900K's, we achieved the following:
Achieved Stable Overclock on Each Core i9-11900K
Intel Core i9-11900K Sample
Achieved All-Core
CPU Frequency
Achieved
CPU VCore
Voltage (V)
Chip #1 - Batch V051F933
5.2 GHz
1.440 V
Chip #2 - Batch V051F933
5.2 GHz
1.460 V
Chip #3 - Batch V051F933
5.2 GHz
1.470 V
Chip #4 - Batch X101J374
5.2 GHz
1.460 V
Binning our four Core i9-11900K's using the MSI MEG Z590 Ace, all four were able to achieve an all-core overclock of 5.2 GHz with a CPU VCore between 1.440 and 1.470 W. As with other models we've tested in this article, chip #1, which incidentally is also our motherboard test bench chip, is our best overclocker with lower volts required than the other three chips.
In our VRM thermal testing during our full review of the board, we got the following results with the MSI MEG Z590 Ace with Chip #1 at 5.1 GHz with 1.450 V:
VRM Sensor Temp: 69°C
VRM Probe 1: 73°C
VRM Probe 2: 75°C
Ambient Temp: 23°C
In our power delivery thermal testing within the full review of the MSI MEG Z590 Ace, we saw very competitive performance against the other Z590 models on test. Despite MSI opting for a fully passive cooling design on the power delivery, the thermal performance was on par with the Z590 Taichi which is using an active design.