The GIGABYTE Z590 Aorus Master: A Quick Recap
The Z590 Aorus Master, in terms of the Aorus branded models, sits just below GIGABYTE's flagship Z590 Xtreme and Xtreme WaterForce models. The GIGABYTE Z590 Aorus Tachyon is specifically designed for extreme overclockers and maximizing overclocking performance with Rocket Lake, but this puts that model in a vaulted segment with a small handful of other Z590 models. The GIGABYTE Z590 Aorus Master includes three full-length PCIe slots, with the top two operating at PCIe 4.0 x16 and x8/x8, while the third slot is locked down to PCIe 3.0 x1. In the top right-hand corner of the board are four memory slots, with support for up to DDR4-5400 out of the box and a total combined capacity of 128 GB.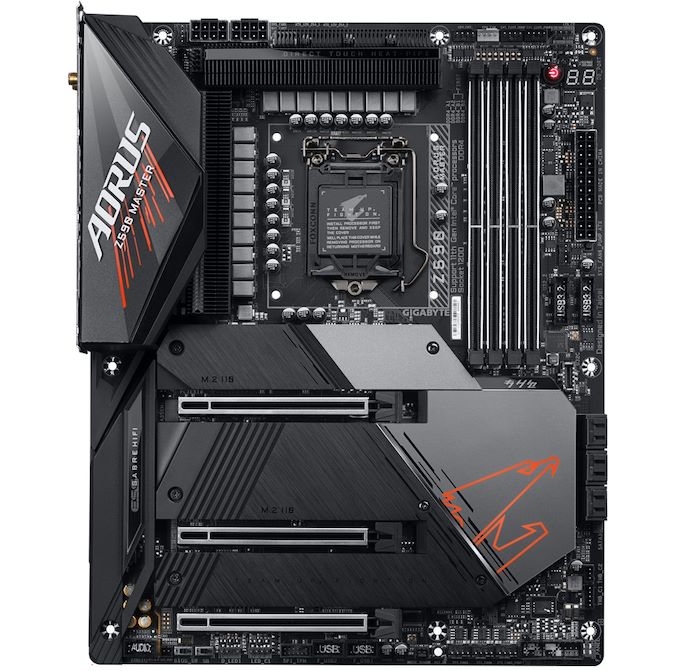 Storage options on the Z590 Master include three M.2 slots, including one PCIe 4.0 x4, two with support for both PCIe 3.0 x4 and SATA M.2 drives, and six SATA ports. The board also has many premium controllers, including a high-end Aquantia AQC107 10 GbE controller, an Intel AX210 Wi-Fi 6E CNVi, and a Realtek ALC1220-VB and ESS Sabre ESS9118 audio controller pairing. GIGABYTE includes a single USB 3.2 G2x2 Type-C port on the rear panel, with an impressive five USB 3.2 G2 Type-A ports and four USB 3.2 G1 Type-A ports also on the rear panel.
GIGABYTE Z590 Aorus Master Key Overclocking Variables
Some of the main features to consider on the GIGABYTE Z590 Aorus Master include:
Large 19-phase power delivery operating at 9+1 (doubled design)
2 x 8-pin 12 V ATX CPU power inputs
Large and dense passive VRM heatsinks
Support for DDR4-5400 out of the box
Dissecting the large 19-phase power delivery, the Z590 Aorus Master uses an Intersil ISL69269 PWM controller operating at 9+1. The CPU section includes eighteen premium Intersil ISL99390 90 A power stages, which are doubled up with nine Intersil ISL6617A doublers. Looking at the SoC section, GIGABYTE is using a single Vishay SiC651 50 A power stage. It should be noted that the GIGABYTE has the largest power delivery of the four models we are testing in this article.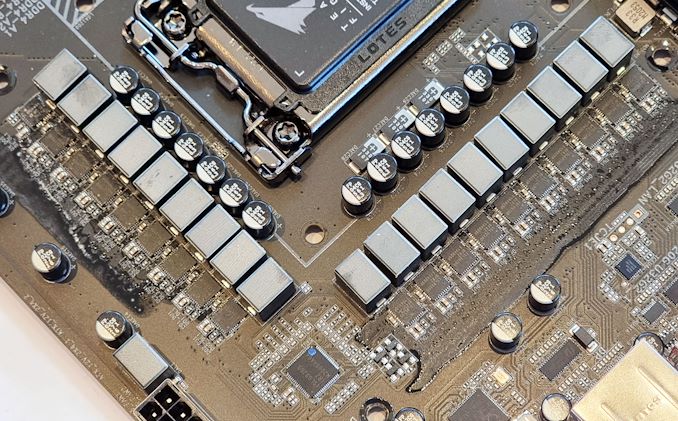 The 19-phase power delivery on the GIGABYTE Z590 Aorus Master (operating at 9+1)
Keeping the power delivery cool is a large and heavy two-part VRM heatsink that is interconnected by a single heat pipe. Both heatsinks are using copious amounts of aluminum fins designed to catch and direct passive airflow in the case, which is designed to improve the overall heat dissipation properties of the design.
GIGABYTE Z590 Aorus Master Firmware for Overclocking: Tweaker
The GIGABYTE firmware is consistent throughout its Aorus branded models with two modes for users to select between; the 'Easy' model for novice users and an 'Advanced' mode for the more experienced. GIGABYTE also has a basic yet functional-looking BIOS, consisting of a black background with white text and orange accents.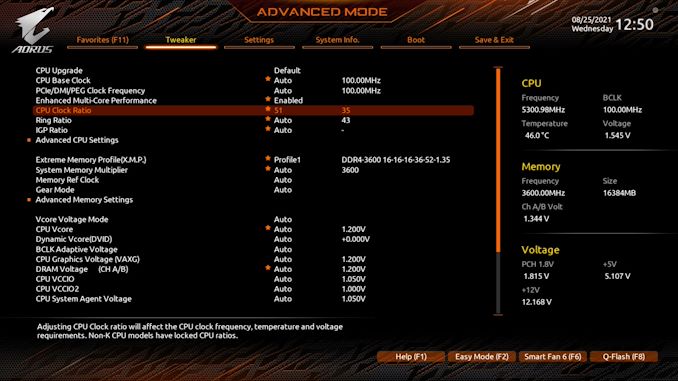 All of the overclocking options and settings are within the Tweaker menu, which can be found in the Advanced mode. The relevant options are listed in one large menu, with CPU frequency at the top, memory options in the middle, and voltage/power-related settings towards the bottom. Users looking to overclock the processor can simply enter or select the desired CPU Clock ratio from a dropdown menu and enter the required CPU VCore voltage. For users looking to overclock the memory, kits with built-in X.M.P 2.0 profiles can be enabled very simply, or users can overclock memory manually with options for frequency and various latency options.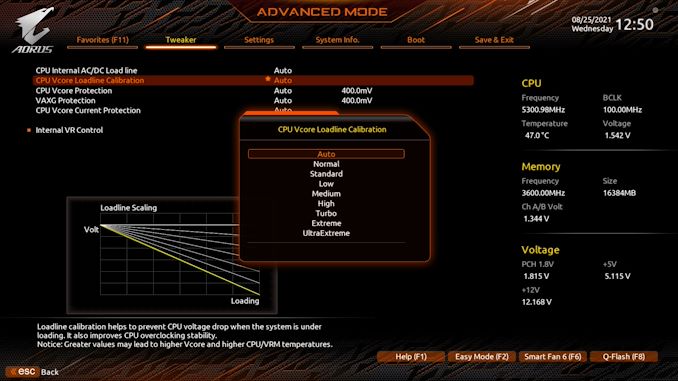 Within the Advanced CPU Settings menu, users can disable AVX workloads and set custom CPU over-temperature protection variables, which in the case of the Master, it goes up to 115°C. There are also options to enable Intel's Turbo Boost technologies, disable C-States, and also manage different power-related functions of Intel's Rocket Lake processors. GIGABYTE has one of the best visuals for Loadline Calibration options, with multiple profiles to select between depending on how aggressive the CPU overclock may be.
Despite looking archaic compared to other vendors' firmware, the GIGABYTE Aorus UEFI BIOS is clean, easy to navigate, and use. There's a tonne of options for users to tweak both the CPU and memory with everything needed to push Rocket Lake on all types of cooling under one menu, aptly named Tweaker.
Getting a baseline on stability and maximum all-core frequencies using the GIGABYTE Z590 Aorus Master, we achieved the following:
Achieved Stable Overclock on Each Core i9-11900K
Intel Core i9-11900K Sample
Achieved All-Core
CPU Frequency
Achieved
CPU VCore
Voltage (V)
Chip #1 - Batch V051F933
5.1 GHz
1.330 V
Chip #2 - Batch V051F933
5.1 GHz
1.350 V
Chip #3 - Batch V051F933
5.1 GHz
1.350 V
Chip #4 - Batch X101J374
5.1 GHz
1.370 V
Using the GIGABYTE Z590 Aorus Master to overclock our CPUs, we did have issues getting any of the four Core i9-11900K's to 5.2 GHz without lots of performance reducing thermal throttling. This is despite increasing the temperature limits to 115°C and removing any throttling constraints. Anything over 1.420 V proved too hot for the board to handle. As we highlighted in our full review (link at the top of the page), the power delivery design seems to dump a lot of heat into the power plane instead of dissipating it, which is the likely culprit here.
In our VRM thermal testing during our full review of the board, we got the following results with the GIGABYTE Z590 Aorus Master with Chip #1 at 5.1 GHz with 1.450 V:
VRM Sensor Temp: 78°C
VRM Probe 1: 74°C
VRM Probe 2: 77°C
Ambient Temp: 24°C
Despite encompassing a large and premium design, the VRM thermal testing on the GIGABYTE Z590 Aorus Master did highlight what we see as a slight design flaw. Typically when keeping a power delivery cool, the heatsinks job is to dissipate as much thermal load from the components, but what we saw was essentially a heat dump into the board's power plane. The passively cooled design on the surface looks good, but we felt GIGABYTE could have done a better job on the design and implementation of the power delivery and heatsink. The extra heat dumped into the power plane around the CPU socket could be one of the reasons we only managed to achieve 5.1 GHz all-core on all of our chips during testing.