Gaming Multitasking Scenario
Our gaming multitasking test basically performs all of the tasks from our first Multitasking Scenario, with the exception of DVD Shrink. We have Firefox loaded with all 13 tabs from our new suite test, iTunes is running and playing a playlist, and Newsleecher is downloading headers. We kept Newsleecher in this test simply because it's the best way for us to be able to have a fairly CPU/disk intensive downloading task running in the background while still maintaining some semblance of repeatability. So, replace Newsleecher with BitTorrent or any other resource-consuming downloading that you may be doing and you're good to go. Note that although we refer to Newsleecher as disk intensive, it, like most downloading operations, isn't that disk intensive at all in the grand scheme of things; it just acts as a good real world background task to have running.
Of course, Norton AntiVirus 2004 and Microsoft's AntiSpyware Beta were also running in the background.
First, we ran our Doom 3 benchmark: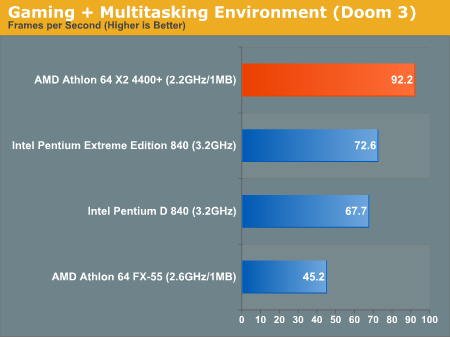 It's not surprising to see AMD at the top of the charts in a gaming comparison, but what's truly interesting is that the Athlon 64 X2 4400+ barely loses any performance due to the multitasking going on in the background. The non-loaded X2 4400+ platform runs at 99.6 fps and here, it drops down to 92% of that speed at 92.2 fps. Even the dual core Intel CPUs don't scale that well, with the Pentium Extreme Edition delivering 81% of its single task performance here. The only explanation for the excellent showing by AMD here is the benefits of their dual core architecture over Intel's, and it is a very impressive showing at that.
Next up is Splinter Cell: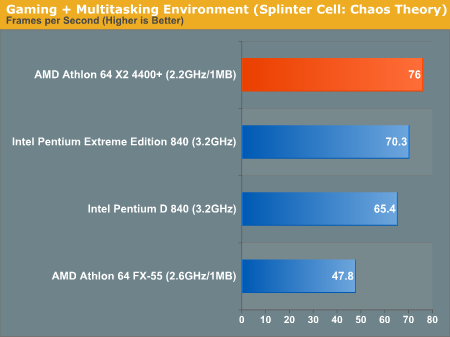 We continue to see an impressive showing by AMD in their dual core performance - there is virtually no performance drop for AMD in this test.
The dual vs. single core comparison is pretty cut and dry. The Athlon 64 X2 4400+ offers nearly twice the performance of the fastest single core Athlon 64 FX.