Earlier this month,
Intel introduced their first dual core desktop CPUs
- the Pentium D and the Pentium Extreme Edition.  Coupled with extremely aggressive pricing designed to move the majority of the desktop market to dual core within the next two years, Intel's launch did not cease to impress.  The ability to bring workstation class performance in multithreaded and multitasking environments to the desktop, at an affordable price, is something that we've been hoping for for years.  Intel's launch was pretty interesting, but today, AMD has more bang.
From the beginning, AMD has talked about how they were going to bring dual core to the K8 architecture.  The on-die north bridge, a part of every Athlon 64 and Opteron CPU, was designed from the ground up to be able to support multiple cores.  AMD had designed their first dual core K8 CPUs years ago. They were simply waiting for manufacturing processes to mature in order to actually make producing such a chip a feasible endeavor. 
With their 90nm process finally maturing, it made business and financial sense to introduce their first dual core products.  AMD wasn't alone in their decision, as it's obvious that Intel waited for 90nm before making their move to dual core as well.  The problem for both AMD and Intel is that at 90nm, a dual core chip is getting a bit on the large side.  Intel's first dual core CPUs weigh in at 230 million transistors on a 206 mm
2
die, and AMD's new CPUs are a bit obese themselves at 233.2 million transistors on a 199 mm
2
die.  While the dual core CPUs that we have tested from both AMD and Intel are no slouch, it's clear that both companies are working to transition to 65nm as quickly as possible to make manufacturing these chips much more reasonable.
Although this may seem like a tangent to the topic at hand, manufacturing has a lot to do with today's announcements from AMD.  What exactly is being announced?  Well, for starters, AMD is announcing their first dual core Opteron parts.  The word "announcing" in this sense means that they are declaring availability of their 800 series dual core Opteron CPUs, and promising that 200 and 100 series dual core Opteron CPUs will be made available starting next month.  Before we move on to the rest of the announcement, pay very close attention to the parts for which AMD is announcing availability - the 800 series parts.  The Opteron 800 series CPUs are for use in 4 or more socket servers and are AMD's most expensive CPUs, and thus, their lowest volume CPUs.  Remember that at 90nm, AMD can produce around half as many dual core CPUs as they can single core CPUs per wafer - so they need to be very careful about demand.  You will notice later on in this article that AMD's strategy involves keeping prices higher and introducing lower quantity CPUs first, in order to ensure that their single core CPUs still have a market and that they aren't committing to more than what they can deliver.  At the end of the day, AMD is still a much smaller manufacturer than Intel and thus, they have to play their cards very differently, which leads us to the second part of AMD's announcement today: the new dual core desktop Athlon 64 X2 line.
The Athlon 64 X2 will be AMD's new brand for dual core desktop CPUs.  This line is being talked about today, but an official announcement with full benchmarks won't come until June.  That being said, we have made it a point to bring you a preview of Athlon 64 X2 performance in this article, despite the fact that AMD isn't introducing the chips for another two months.  So, for all of you who are interested to see how AMD's dual core desktop CPUs stack up against the recently introduced Pentium D, never fear, we have what you're looking for.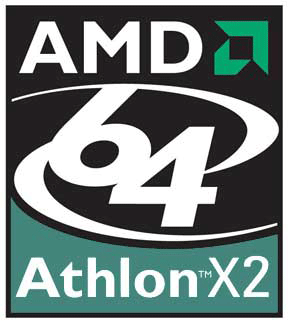 The introduction of the Athlon 64 X2 brand also comes with a few other tidbits of information:
The Athlon 64 4000+ was the last single core member of the Athlon 64 line.
The Athlon 64 FX will continue as a single core CPU line, with the FX-57 (2.8GHz) due out later this year.
This article will serve two purposes. First and foremost, we're interested in the new dual core Opterons as a server solution - and we run them through our usual web and database serving tests.  Next, we're going to take a look at the Athlon 64 X2 and how it compares in performance to Intel's recently announced Pentium D.  We've developed even more desktop multitasking tests for this article, so we'll be able to provide you with an idea of how well AMD will be able to compete in the multi-core world. 
We are missing a look at workstation performance between the Opteron and Xeon, but rest assured that such a comparison is in the works.  The usual mix of very limited time and hardware problems (which we will also discuss in this article) forced us to exclude one of the comparisons, and thus, the workstation comparison will have to wait for another day.