Multitasking Scenario 5: Compiling
Our final non-gaming multitasking scenario is quite possibly our most strenuous. It involves the following background tasks: iTunes playing a playlist, Firefox with the same 13 tabs open as in our other tests, and Newsleecher updating newsgroup headers. On top of those tasks, we compiled Firefox as well as ran our DVD Shrink operation on the "Star Wars Episode VI" DVD. Firefox remained the application in focus during the test.
The results were fairly interesting. First, let's look at how long it took us to compile Firefox: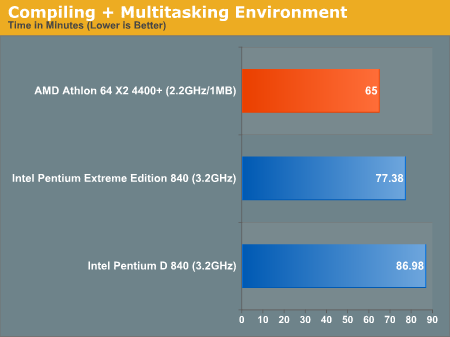 The Athlon 64 X2 4400+ was stronger than either of the Intel CPUs in compiler performance, so it is no surprise that it is faster here. You'll notice that the single core Athlon 64 FX-55 isn't present in this chart - you'll find out why in a moment, but first, let's look at the performance of our DVD Shrink task that also ran in the background: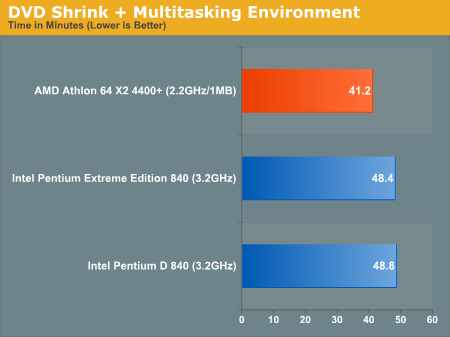 Once again, AMD is ahead of the competition, thanks to better general performance as well as all of the benefits of their low latency architecture. As for why the single core Athlon 64 FX-55 wasn't included here, well in this particular test, the DVD Shrink operation would have taken over 13 hours - which doesn't exactly fit with our graph's scale. The compiler operation also took significantly longer to complete. Whichever task completed first would eventually have let the other finish sooner, but we didn't care to find out as it was already ridiculously longer than any of the dual core solutions.