Encoding Performance
These new dual core CPUs are supposed to usher in a new era of media rich application usage models. They are supposed to enable us to do things that we were never able to do before.  Let's find out if that's true or not...
First, we start off with iTunes to test MP3 encoding performance.  We took a 12MB .wav file of our own creation and encoded it to a 192kbps MP3 file, measuring how long it took to encode the file.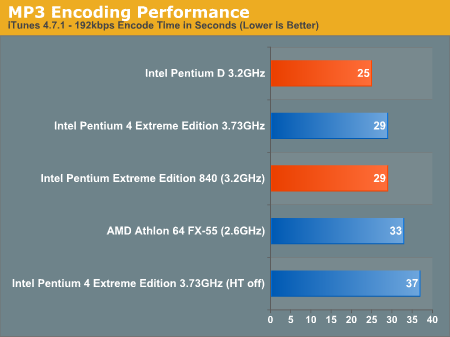 Once again, we see that the Pentium Extreme Edition 840 is able to offer equal performance to the 3.73EE at 29 seconds.  What's truly interesting is that the Pentium D running at 3.2GHz actually offers better performance than the Extreme Edition. We can only assume that 4 threads in iTunes begins to reduce performance, with 2 concurrent threads being the optimal point. 
But once again, the performance gains aren't impressive.  So far, dual core isn't looking too good.
DivX Encoding Performance
Our DivX tests from previous CPU reviews have shown a pretty sizeable improvement due to Hyper Threading, so we expected a similarly impressive gain due to dual core: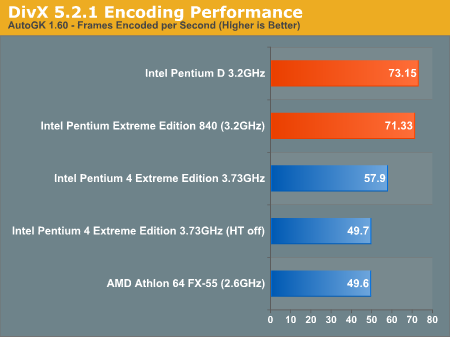 ...and we were not disappointed.  The Pentium Extreme Edition 840 offered more than a 20% increase in performance in our DivX encoding task when compared to the 3.73GHz single core P4 Extreme Edition. 
We also see another example of four threads offering no performance improvement over being able to execute two concurrently, as the Pentium D running at 3.2GHz offers equal performance to the 840. 
XviD Encoding Performance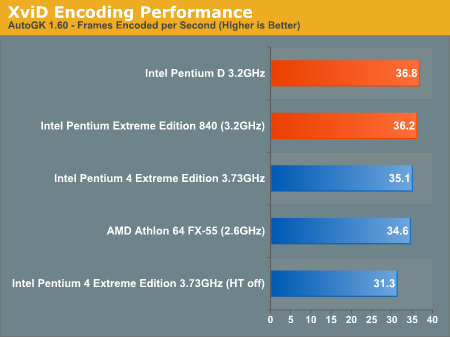 The XviD tests show no real improvement due to dual core, but also don't seem to show much of an improvement due to Hyper Threading either.  This just goes to show you that not all encoding tasks will show tremendous benefits. 
Windows Media Video 9 Encoding Performance
Once again, we see extremely strong performance from the new dual core chips, offering around a 30% performance improvement at 85% of the clock speed of the current king of the hill.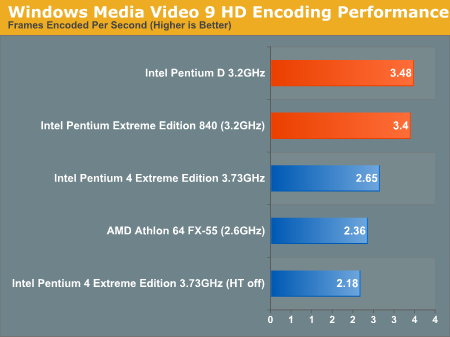 So, overall encoding performance is pretty strong on the dual core chips from Intel.  Let's have a look at one more multi-threaded application before we get to the more interesting tests.