Multimedia Content Creation Performance
MCC Winstone 2004
Multimedia Content Creation Winstone 2004 tests the following applications in various usage scenarios:
Adobe® Photoshop® 7.0.1
Adobe® Premiere® 6.50
Macromedia® Director MX 9.0
Macromedia® Dreamweaver MX 6.1
Microsoft® Windows MediaTM Encoder 9 Version 9.00.00.2980
NewTek's LightWave® 3D 7.5b
SteinbergTM WaveLabTM 4.0f
All chips were tested with Lightwave set to spawn 4 threads.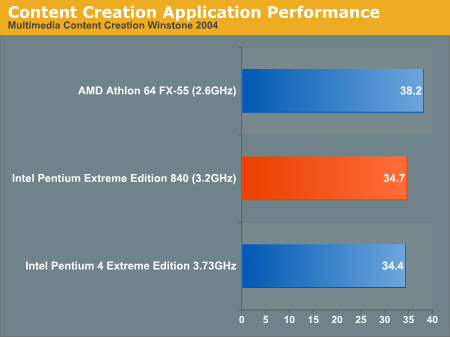 ICC SYSMark 2004
The first category that we will deal with is 3D Content Creation. The tests that make up this benchmark are described below:
"The user renders a 3D model to a bitmap using 3ds max 5.1, while preparing web pages in Dreamweaver MX. Then, the user renders a 3D animation in a vector graphics format."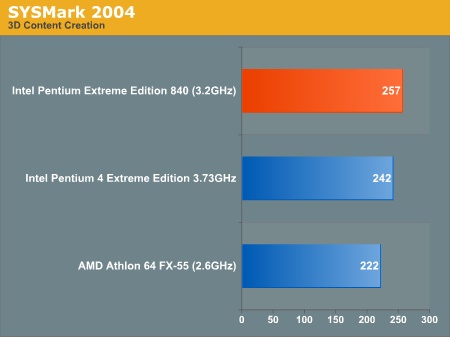 Next, we have 2D Content Creation performance:
"The user uses Premiere 6.5 to create a movie from several raw input movie cuts and sound cuts and starts exporting it. While waiting on this operation, the user imports the rendered image into Photoshop 7.01, modifies it and saves the results. Once the movie is assembled, the user edits it and creates special effects using After Effects 5.5."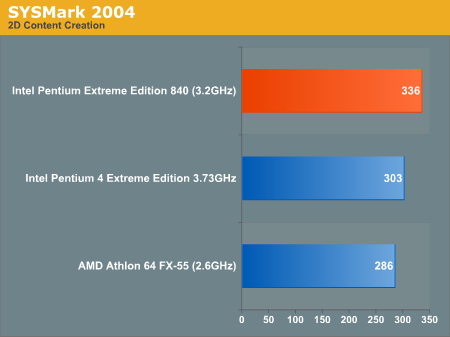 The Internet Content Creation suite is rounded up with a Web Publishing performance test:
"The user extracts content from an archive using WinZip 8.1. Meanwhile, he uses Flash MX to open the exported 3D vector graphics file. He modifies it by including other pictures and optimizes it for faster animation. The final movie with the special effects is then compressed using Windows Media Encoder 9 series in a format that can be broadcast over broadband Internet. The web site is given the final touches in Dreamweaver MX and the system is scanned by VirusScan 7.0."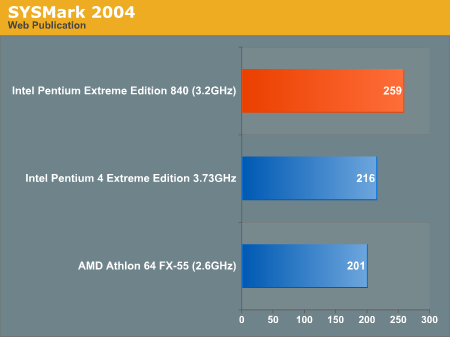 As soon as we throw in more content creation applications, some of which are multithreaded (e.g. 3ds max, Windows Media Encoder 9), the performance advantage of dual core is established.  Here, we see that the dual core Pentium Extreme Edition running at 3.2GHz holds a 6% to 20% performance advantage over the higher clocked 3.73EE. 
The performance advantages here are nice, but not the sort of order of magnitude in improvement that we'd been hearing about...