Gaming Tests: Gears Tactics
Remembering the original Gears of War brings back a number of memories – some good, and some involving online gameplay. The latest iteration of the franchise was launched as I was putting this benchmark suite together, and Gears Tactics is a high-fidelity turn-based strategy game with an extensive single player mode. As with a lot of turn-based games, there is ample opportunity to crank up the visual effects, and here the developers have put a lot of effort into creating effects, a number of which seem to be CPU limited.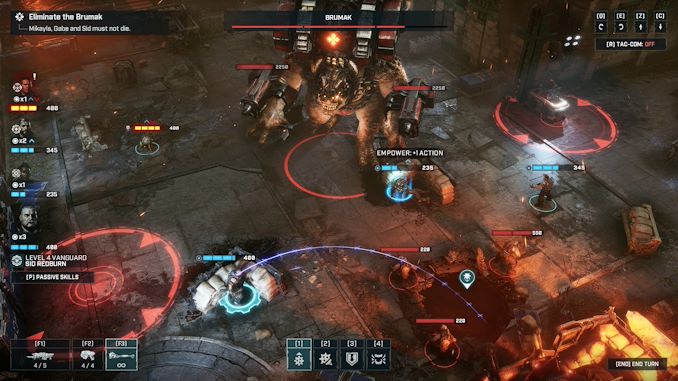 Gears Tactics has an in-game benchmark, roughly 2.5 minutes of AI gameplay starting from the same position but using a random seed for actions. Much like the racing games, this usually leads to some variation in the run-to-run data, so for this benchmark we are taking the geometric mean of the results. One of the biggest things that Gears Tactics can do is on the resolution scaling, supporting 8K, and so we are testing the following settings:
720p Low, 4K Low, 8K Low, 1080p Ultra
For results, the game showcases a mountain of data when the benchmark is finished, such as how much the benchmark was CPU limited and where, however none of that is ever exported into a file we can use. It's just a screenshot which we have to read manually.
If anyone from the Gears Tactics team wants to chat about building a benchmark platform that would not only help me but also every other member of the tech press build our benchmark testing platform to help our readers decide what is the best hardware to use on your games, please reach out to ian@anandtech.com. Some of the suggestions I want to give you will take less than half a day and it's easily free advertising to use the benchmark over the next couple of years (or more).
As with the other benchmarks, we do as many runs until 10 minutes per resolution/setting combination has passed. For this benchmark, we manually read each of the screenshots for each quality/setting/run combination. The benchmark does also give 95th percentiles and frame averages, so we can use both of these data points.

AnandTech
Low Resolution
Low Quality
Medium Resolution
Low Quality
High Resolution
Low Quality
Medium Resolution
Max Quality
Average FPS
95th Percentile
Gears is the one test where at our 1080p Maximum settings it shines ahead of the pack. Although at high resolution, low quality, although all five CPUs are essentially equal, it still sits behind AMD's Ryzen APU.
All of our benchmark results can also be found in our benchmark engine, Bench.