Focusing on Premium Experiences
The issue with AMD's notebook strategy through the 2010s was that most users saw the brand as a budget implementation, with low performance and low specifications. Both AMD and its OEM partners were complicit in assisting this projection, using 1366x768 TN screens and slow mechanical hard drives. There were a number of negative feedback loops preventing a nice AMD mobile system from hitting the market, and the only key design wins were from mass corporate sales. With the launch of the first Ryzen Mobile towards the end of the decade, AMD finally had a performance product worthy of attention, and the company has had a steady improvement generation-on-generation, convincing its OEM partners to come along and take advantage of the performance uplift for their customers.
AMD's historic lows in that 2010 decade were performance, specifications, and battery life. With Ryzen 4000 Mobile, from last generation, AMD had a product that could dispel all those assumptions, and we saw critical acclaim put upon devices like the Lenovo Slim 7 Yoga, and the ASUS Zephyrus G14. From our review of the new generation today, Ryzen 5000 Mobile, the whole strategy that AMD is playing has finally come into focus.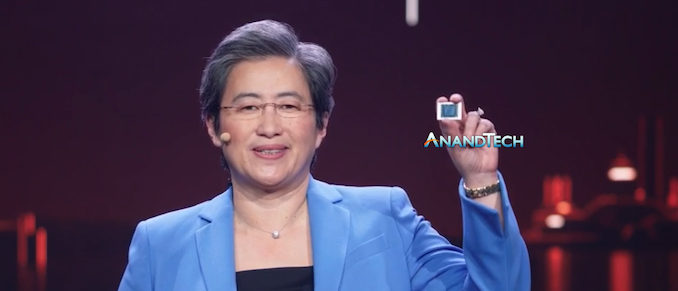 AMD stated that the new generation Ryzen 5000 Mobile processors were in the lab and up-and-running only two months after Ryzen 4000 Mobile launched. AMD made both sets of processors pin-compatible, allowing OEM partners to build designs that could be used for either processor family. The key here that I've realized is that AMD's ultimate goal with these was to build a strong Ryzen 5000 Mobile family, and Ryzen 4000 Mobile was an option for partners to take baby steps, but the main goal was Ryzen 5000, with Zen 3. AMD's statement of already having over 150+ system designs in the works with Ryzen 5000 Mobile, another +50% over the previous generation, along with this strategy of having a regular predictable cadence of products through re-use of different hardware elements showcases why Ryzen 5000 Mobile is important to the company. With AMD's recent supply issues as well, we're of the opinion that AMD has been stockpiling these Ryzen 5000 Mobile processors in order to enable a strong Q1 and Q2 launch of the platform with stock for all OEMs.
What we tested today is one of the AMD flagships for launch, the Ryzen 9 5980HS inside the ASUS ROG Flow X13. This is a sub-16mm ultraportable gaming laptop with a mid-range discrete GPU installed, an impressive 4K 16:10 Pantone certified IPS display, 32GB LPDDR4X memory and a 1 TB NVMe SSD. It also has an executive feel and design, indicating that both AMD and ASUS want to take this platform to its most premium customers. We're leaving a full review of the laptop itself for a later date, let us focus on the performance of the processor inside.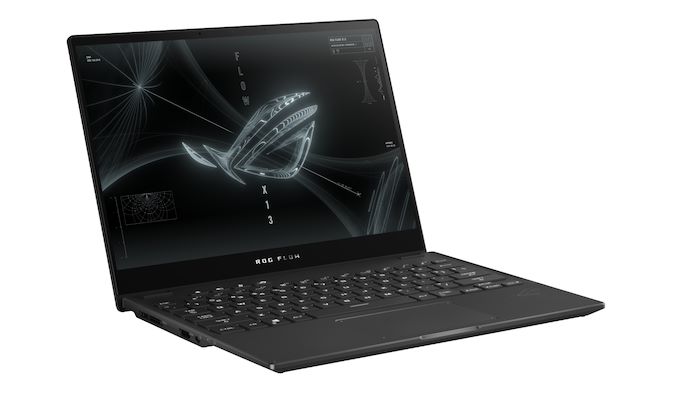 The jump from Zen 2 to Zen 3 in the mobile space for AMD is more than just putting in the new cores. The cache adjustment from a split 4+4 MB L3 cache to a unified 16 MB L3 cache enables a better effective latency and less reliance on constantly going out to main memory – AMD is also aggressive on the L3 prefetching policies to drive performance. We can see that the single 8-core CCX has low core-to-core communication latency showcasing that enthusiast level workloads will benefit in more ways than one.
AMD is also piling on improvements to help with power, such as enabling different per-core voltage levels and a more efficient memory controller. Per-core voltage control is something that every modern CPU has to have (or at least islands of CPUs) in order to get the best battery performance. AMD is pairing this with its CPPC2 support, and users will benefit from very quick idle-to-turbo performance for immediate responsiveness.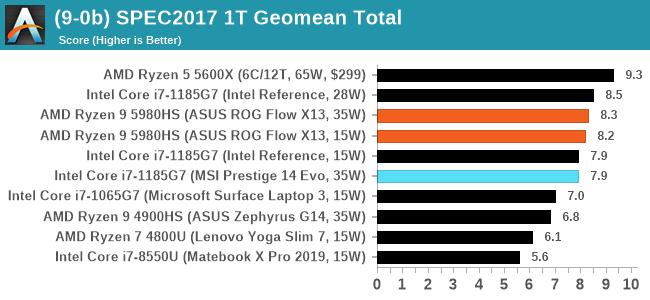 For our benchmark suite, almost all of our benchmarks show an uplift for the new Ryzen 5000 Mobile series, some considerably so: our compile benchmark is +12%, Corona rendering is +18%, Dolphin emulation +17%, NAMD +8%, Blender +6%. To our surprise our SPEC2006 1T benchmark is +32%, accelerated considerably by the 16 MB L3 cache, but also because these CPUs also support a higher instantaneous power turbo modes than the previous generation. This enables some competitive performance numbers against Intel's Tiger Lake platform in single thread focused tests (AMD wins on multithread quite easily).
All of these core updates, as well as design wins enabling better hardware under the hood, put AMD's Ryzen 5000 Mobile series in good stead to power a generation of machines especially as more and more of us work from home. When Intel was in a period of high demand through 2018 and 2019, Intel focused on premium solutions to make the most revenue - Intel's financials last week showed that the company was selling more and more education-focused low-end notebooks and Chromebooks, now that demand had reduced. We can apply something similar to AMD's current situtation - AMD's silicon is in high demand for 2021, and so AMD's target this year would appear to be more mid-range, premium commercial, and enthusiast machines. To reaffirm this, AMD has also promised that we will see notebooks this year paired with the most powerful mobile graphics cards, enabling high-performance gamers to move to AMD. No doubt we will have a number pass through our hands through the year, especially as they hit the shelves starting February.