Synthetic Benchmarks - ATTO and CrystalDiskMark
Sabrent claims speeds in excess of 2500MBps for the Rocket XTRM-Q. This is backed up by the ATTO benchmarks provided below on the read side, but the absence of write caching results in sub-1GBps performance for writes using the Thunderbolt 3 host ports. There is no discernible difference in the performance numbers when using either the JHL6540 or JHL7540 host. However, in the USB mode, the drives come close to 1GBps for both reads and writes (using the ASMedia ASM2142 host). These observations are common to both the 2TB and 4TB variants of the Rocket XTRM-Q. It must be noted that these access traces are not very common in real-life scenarios.
Drive Performance Benchmarks - ATTO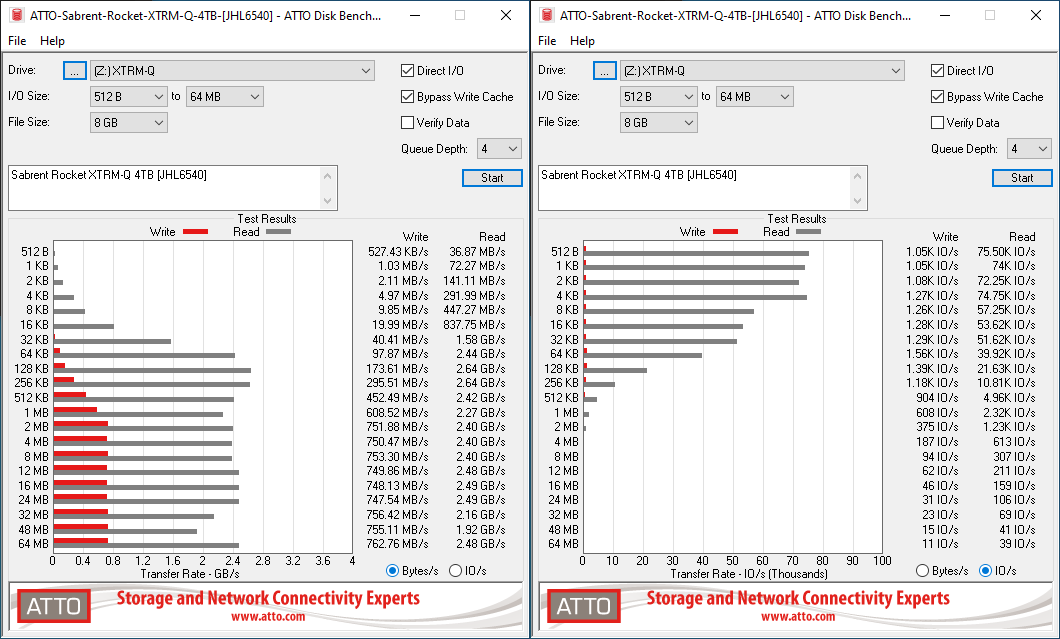 CrystalDiskMark, despite being a canned benchmark, provides a better estimate of the performance range with a selected set of numbers.
Drive Performance Benchmarks - CrystalDiskMark

In CrystalDiskMark, we see the 4TB version actually perform a bit worse compared to the 2TB version in the sequential reads with the Thunderbolt 3 host ports. However, in USB mode, both versions perform very similar to each other. In the USB mode, we can compare the 2TB version against the Crucial X8 for an apples-to-apples comparison - the numbers are in favor of the XTRM-Q across multiple traces.
In the next section, we take a look at real-world workloads along with an evaluation of the performance consistency.