ASUS TUF Gaming B550-Plus
In days of old, ASUS' TUF 'The Ultimate Force' motherboards were a byword for rigidity, offering five years warranty over the standard three, and the more premium models were built with full scale motherboard armor and dust covers to survive harsh environments. In recent generations, the TUF brand has been whittled down to a logo and some yellow stripes, and sits below the Strix brand, which itself used to be the budget brand.
For the TUF Gaming B550-Plus, we get an above average motherboard on the specifications. The power delivery heatsink is spread across two sides of the socket, but there isn't really a rear IO cover of sorts. There is a single 8-pin power socket at the top, and these is where the aesthetic starts – a series of grey lines going from one corner of the motherboard PCB to the other, with some hellow thrown in for TUF.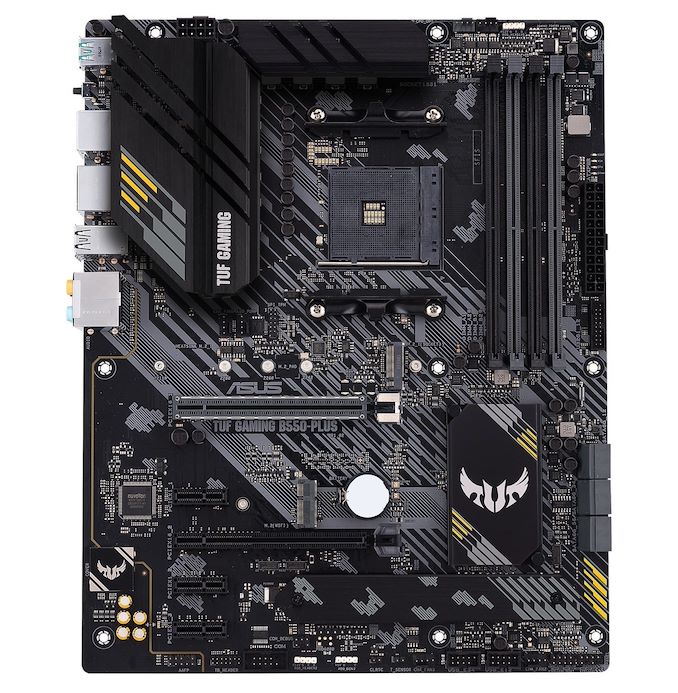 The socket area has access to four 4-pin fan headers, two above and two below the socket. There are four DRAM slots in alternating colors, each with single side latches despite the first PCIe slot being quite a distance away. On the right hand side of the board there is an RGB header, a 24-pin ATX connector, a USB 3.0 header, and six SATA ports.
For the PCIe area, we start with the PCIe 4.0 x4 M.2 slot, which doesn't have a heatsink (presumably so users can have their own). Underneath is the PCIe 4.0 x16 slot from the CPU. The other full length slot is a PCIe 3.0 x4 from the chipset, which is just above the PCIe 3.0 x4 M.2 slot from the chipset as well. The chipset heatsink isn't anything substantial, but certainly enough for the job.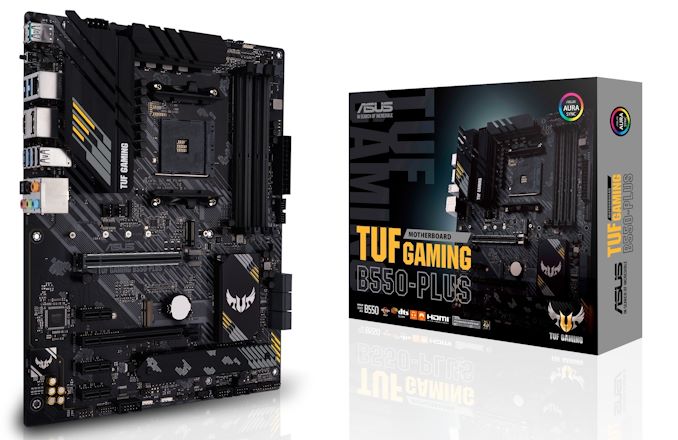 At the bottom of the board we have the audio subsystem (S1200A without additional amps), a Thunderbolt header, a COM port, RGB headers, a Clear CMOS header, a thermocouple header, two 4-pin fan headers, and two USB 2.0 headers.

On the rear panel we have a USB 3.2 Gen 2 Type-A, a USB 3.2 Gen 2 Type-C, a USB Flashback button, a 2.5 gigabit Ethernet port (Realtek RTL8125B), four USB 3.2 Gen 1 ports, a DisplayPort, a HDMI port, two USB 2.0 ports, and the audio jacks.