ASUS TUF Gaming B550M-Plus + Wi-Fi
For the TUF small form factor board, technically ASUS is going to offer two different models here, one with AX200 Wi-Fi 6 and one without. The price for the B550M-Plus with the Wi-Fi is an extra $20, which is in-line with what we've seen from other Wi-Fi 6 variants. At $160 for the base model, it still feels as if this should be on the high-end for a budget chipset, but this is actually around the middle.
The ASUS TUF Gaming B550M-Plus (and Wi-Fi variant) follow similar design cues to the ATX B550-Plus model. It's a similar styling with grey diagonal lines from top left to bottom right, with some TUF yellow thrown in, and the chipset heatsink covers both sides of the power delivery, but without a heatpipe.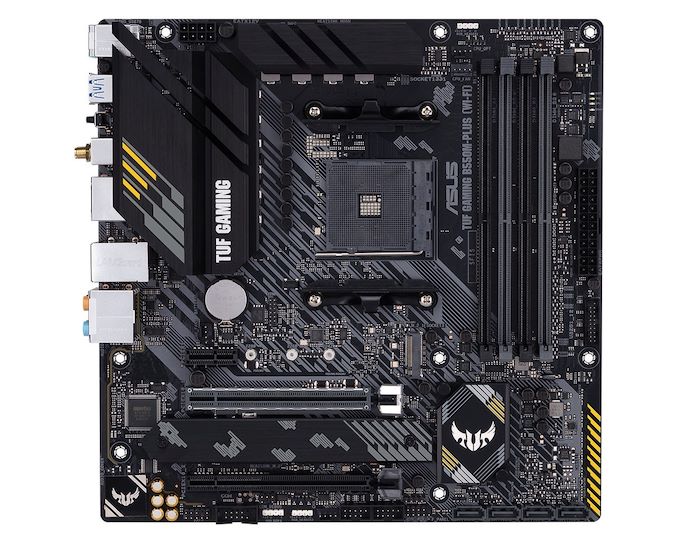 The CPU is powered by a single 8-pin to the top left, and the socket area has access to three 4-pin fan headers within easy reach. The memory slots are all single-sided latch designs, and down the right of the board we get only a 24-pin ATX power connector and a USB 3.0 header. For this board, ASUS has moved all the SATA ports to the bottom of the board! At least in this configuration, it makes removing any of them very easy to do.
The PCIe configuration for the board shows that the top slot is focused on the PCIe 4.0 x4 M.2 slot, without a heatsink so users can have their own. Below this is the main PCIe 4.0 x16 slot, with additional reinforcement. We have then a PCIe 3.0 x4 M.2 slot from the chipset, and a full-length PCIe 3.0 x4 slot from the chipset. The chipset heatsink, like on the B550-Plus is relatively small but should be sufficient.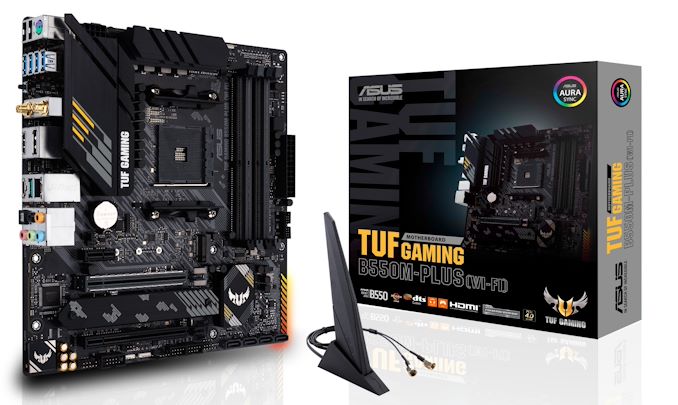 Along the bottom of the motherboard we get a COM header, RGB LED headers, another 4-pin fan header, two USB 2.0 headers, the front panel header, and the four SATA ports. The audio system uses the same S1200A audio codec as the ROG Strix family, but without the additional amps.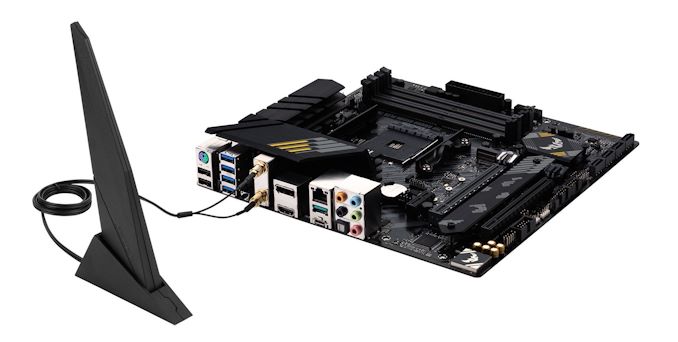 On the rear panel we get a combination PS/2 connector, two USB 2.0 ports, four USB 3.2 Gen 1 ports, a BIOS Flashback button, Wi-Fi ports (for the Wi-Fi model), a DisplayPort, a HDMI port, 2.5 gigabit Ethernet (Realtek RTL8125B), a USB 3.2 Gen 2 Type-A port, a USB 3.2 Gen 2 Type-C port, and the audio jacks.