Integrated Media Center Extenders in Consumer Electronics
Gates' keynote also gave us the impression that Microsoft was now ready to start offering hooks into consumer electronics devices that would take advantage of Media Center Edition PCs. For example, TVs and set-top boxes with integrated Media Center Extenders that could wirelessly stream content from your MCE PC are the direction Microsoft wants to take. So instead of forcing users to purchase a MCE PC and then an Extender for every TV they want to stream content to, encourage the CE manufacturers to integrate the Extender functionality (basically a 802.xx receiver) into their devices so the enabling is already done.
One such example was a set-top DVR/DVD burner from LG. The DVR/DVD burner interface looked very much like Microsoft's MCE interface, as it well should since Microsoft developed it. The DVD burner used a customized version of the MCE interface for its menus and could also connect to any Windows XP based PC to stream music, pictures and movies from for display on the TV it's attached to. Think of it like a DVD burner and Media Center Extender in one.
Microsoft also announced that Pioneer and Digitrex would be producing HDTVs that could interface with Windows XP and Media Center Edition PCs in the future. Again, much like HDTVs with built in Media Center Extenders that will stream content from your XP or MCE PC all while featuring a familiar MCE-style interface that you can sort of see below: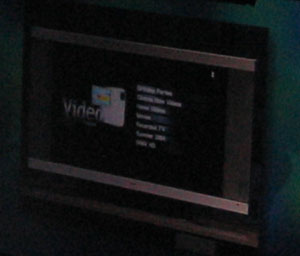 Microsoft's strategy definitely seems to be enabling the PC-centric homes that we've been hearing about for years, with the PC being a powerful XP or MCE box and it driving numerous CE devices effectively acting as Media Center Extenders. If Microsoft can make it cheap enough for CE manufacturers to include the Media Center Extender functionality in their devices then we may just see this idea of a Media Center PC truly take off.
We should give credit where its due however, last year Microsoft shipped 1.1M MCE enabled PCs, which is far from an insignificant amount.