He didn't announce Xbox2.
He didn't talk about Longhorn.
And he didn't laugh much at Conan's jokes.
But Bill Gates' keynote, which was given some comic relief by the interviewing host Conan O'Brien, did focus on Microsoft's Media Center efforts both inside and outside of the PC. Thankfully the keynote wasn't just Gates talking, it was setup much like Conan's late night talkshow, with Conan interviewing Gates and interjecting humor whenever necessary.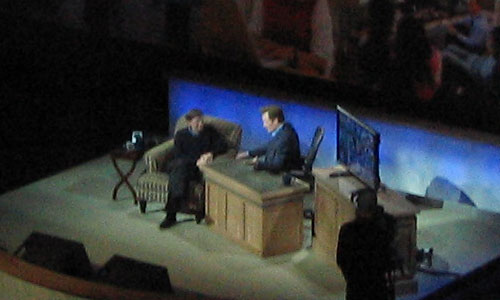 Bill Gates and Conan O'Brien kept us entertained
The keynote itself wasn't put together too well. Aside from O'Brien himself, none of the presenters were, well, good presenters. Hardly any of the demonstrations worked when they were supposed to (or at all) and as usual there was the requisite blue screen during one of the demonstrations, except this time it was on a beta game running on an Xbox dev kit.
Despite its shortcomings, there were some highlights to the keynote which we'll be bringing you here today before the start of this year's Consumer Electronics Show. We have to first start by apologizing about the quality of the pictures, the keynote was packed as you can imagine and we were stuck in the far upper balcony without the best lighting conditions for pictures. So hopefully our eloquent discriptions of what transpired will suffice along with a few grainy images :)
The first big announcement set the tone for what was to come, it was an announcement of new Online Spotlight features for Media Center 2005 users. There's a new Discovery Channel Online Spotlight that will allow you to preview content, get extra content and further interact with Discovery Channel programming if you have a MCE 2005 box. The reason we say that this set the tone was because basically the entire keynote was about Media Center or consumer electronics implementations of Media Center applications.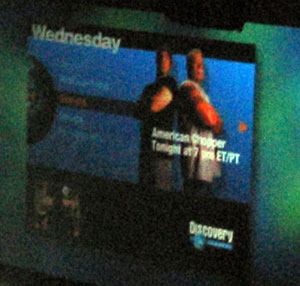 Gates was also proud to announce that Philips, Logitech and Niveus Media would all be producing universal Media Center remotes in the near future - again continuing with the Media Center theme of the keynote.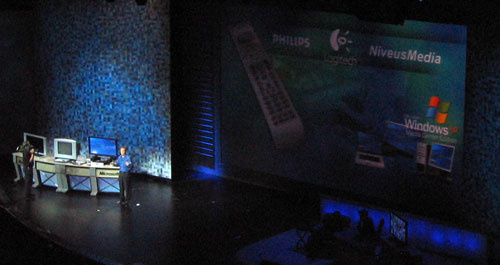 Later this quarter, Microsoft will be introducing MSN Remote Record for MCE PCs. Unfortunately, just like most of the demos during Gates' keynote, the Remote Record demonstration didn't work but from what we gathered, you should be able to login remotely using a passport account to tell your MCE PC at home to record shows. Gates also mentioned that you'd be able to achieve the same via your cell phone, however more specifics weren't disclosed.