Pioneer DVR-108D
We took our first look at the Pioneer 108D under the official US firmware (at the time) back in
August
. Since then, we retested the drive with lots of new media and a newer firmware. Pioneer and NEC arguably share the title of most mature 16X solutions available - both drives have been available for three months now.
Below, you can see the individual specifications of the drive.
 Pioneer DVR-108D 16x DVD-/+RW Drive
Interface
PATA
CD Write Speed
32X, 24X ZCLV
16X, 8X, 4X CLV
CD Rewrite Speed
24X ZCLV
16X, 10X, 4X CLV
CD Read Speed
40X MAX CAV
DVD-R Write Speed
16X, 12X, 8X CLV
4X, 2X, 1X
DVD-RW Rewrite Speed
4X, 2X, 1X CLV
DVD+R Write Speed
16X, 12X, 8X ZCLV
4X, 2.4X
DVD+RW Rewrite Speed
4X, 2.4X CLV
DVD+DL Write Speed
2.4X CLV
DVD-RAM Read Speed
2X CLV
DVD Read Speed
16X MAX CAV
Supported Modes
DAO / DAO-RAW 16 & 96
TAO
SAO / RAW SAO, RAW SAO 16 & 96
Packet Write
Multi-Session
Supported Formats
DVD+R (DAO, incremental, seq)
DVD+RW (random)
DVD-R (DAO, incremental, seq)
DVD-RW (restricted overwrite)

CD-R, CD-RW, CD-ROM, CD-DA,
Mixed Mode, CD Extra
Photo CD, CD Text, Bootable CD, UDF
Access Time
CD: 130ms
DVD: 140ms
Buffer
2MB
Since Pioneer is our definitive 16X recorder that we have already reviewed, we are comparing all of our specifications against it. The most disappointing aspect of the drive that we have noticed during our analysis over these last few weeks has been the (relatively) slow CDR burn speeds. DVDR burn speeds are excellent, and the drive technically supports 4X DVD+DL burn speeds, even though it does not readily advertise such. You can see our original DL tests on the drive
here
.
Retail versions of the drive come with a redesigned bezel look. For the OEM version that we obtained for the review, the bezel retains the same bland pale design seen in the Pioneer 107 and 106D (and its
derivatives
).
The drive is recognized in Nero's Infotool as such: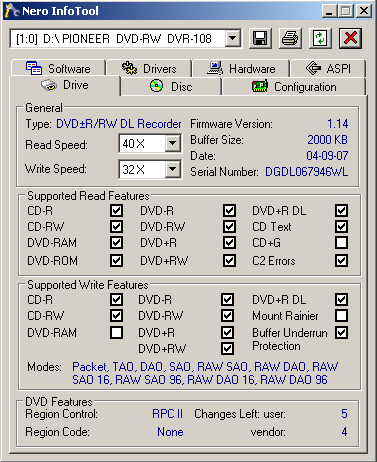 Here's a high resolution scan of the topside of the DVR-108D showing off its label.
Below, you can see another high resolution scan of the drive's internal components.
Our drive came with the NEC D63635GM and C3335 chipsets featuring Hynix DRAM. NEC's D63635 digital signal processor (DSP) was the first to 16X, and thus far, has a very stable track record. Keep in mind, even though the NEC 3500A and the Pioneer 108D utilize the same controllers and servos, they are designed and built completely different. NEC's design revolves around a single double-sided PCB with differing flash/DRAM solutions. The Pioneer drive also supports reading of DVD-RAM media at 5X speeds. There are many similarities between the drives, such as the multi-chip analog controller approach.
A few other drives on the market, like the ASUS DRW-1604P, are built on the same design and chipset, and generally offer identical performance. However, the Pioneer 108D has the most mature firmware and reference design; its performance should equal or surpass other models on the same platform.
Feel free to download the performance graphs for the DVR-108D
here
.